Wessex Water uses the Proam ammonia monitor to continuously monitor effluent discharge
Wessex Water has established a need to reliably and continuously monitor effluent ammonia concentration at a number of key wastewater sites and have awarded an instrument supply framework to Pollution & Process Monitoring (PPM) Ltd. These sites typically have an effluent consent of 5 mg/l or less and any failure to comply with the discharge consent could lead to hefty financial penalties under the OFWAT performance assessment.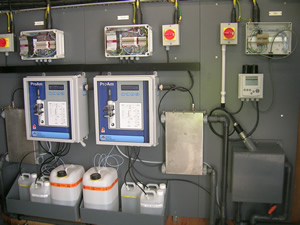 Final effluent monitoring panel installed at Warminster WwTW comprising two Proam ammonia monitors and a WTW turbidity instrument.
Proam ammonia monitor evaluated by Wessex Water
The Poole WwTW site was initially used to evaluate the ProAm instrument over a two month period commencing November 2004. The trial was a great success and Wessex Water decided to make the installation permanent. Subsequently, four additional Proam monitors have been installed to provide continuous measurement at various locations across the site, to allow Scientists to optimise the treatment processes and maintain consent.
The Proam technology has also been installed at many other treatment facilities within Wessex Water reporting ammonia concentrations before and after nitrifying filters; post activated sludge and after percolating filters.
The decision to award PPM an instrument framework reflects the positive feedback from instrument users reporting that the analyser is simple to maintain and is reliable in operation. Wessex Water has also been pleased with the technical support provided by PPM which includes bespoke engineering, commissioning and training.
"Gas Sensing Ion Selective" method is ideal for continuous monitoring of waste water
The Divisional Scientist originally responsible for accessing the ProAm analyser comments "Ion selective devices are an excellent technology for waste-water monitoring applications. They are reliable and unaffected by influent variability. The Pro-Am ammonia analyser is compact, easy to operate and is self contained. The low cost of operation and accuracy of results has enabled us to make a number of changes to plant performance which has greatly reduced the risk of failure. Already the instrument has proved invaluable providing the Process Scientists with crucial trending data identifying how upstream processes may be improved and ensuring compliance with the Environment Agency permit."
The Proam ammonia monitor has incorporated many design enhancements
Since supplying the original Proam analyser in 2004, several developments to the original design have been incorporated.
The first enhancement is to integrate a dual-speed pumping function which significantly reduces calibration times by purging fluid much more quickly. The additional benefit is to increase the availability of the on-line instrument and also minimise maintenance times especially during servicing.
The dual-speed pump is also beneficial when the analyser is configured to draw sample directly from source using the internal peristaltic sample pump. Cleaning fluid can be quickly pumped to back-purge and chemical clean, the complete transfer line - right back to the inlet strainer.
However, most installations within Wessex Water have been upgraded to include a specially designed membrane panel filter, to remove suspended solids and biology that, can otherwise be problematic. PPM's approach is to consider the complete installation (analyser, sample preparation & delivery system) as a complete entity which ensures the very best operational performance is achieved.
At an analyser level, a number of key design features are critical to the instrument's superior performance:
Automatic self validation of measurement provides the best possible confidence in the reported result. The Proam ammonia analyser automatically calibrates against two known calibration standards to enhance accuracy and alarm unacceptable performance.
Large diameter internal tubing and pinch-valve technology improves performance especially for waste-water monitoring applications, which can be prone to blockage.
Automatic acid cleaning is employed to limit bio-fouling and reduce manual intervention.
The internal instrument panel allows access to each and every component so maintenance is simplified and components needing servicing, can be simply identified.
All components within the instrument panel are operated by 24 VDC allowing safe access without power isolation.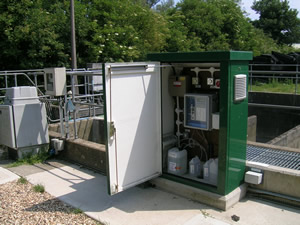 Final effluent monitoring kiosk at Dorchester WwTW comprising a Proam ammonia monitor sampling directly from the final effluent chamber.
Many of the instrument design features are obvious and some are very subtle. However the cumulative effect is that the Proam instrument delivers at every level. It is competitive; it has low running costs; the design is "fit for purpose" and after more than seven years of continuous service within Wessex Water, the Proam ammonia monitor is proven technology.
With such a good price-performance ratio, the UK manufacturer remains confident that many other Water Companies will follow suit. Severn Tent Water is the latest UK Water Company to award PPM an instrument framework and is also busy installing the analyser, for final effluent monitoring. To date 115 sites have been scheduled to have the Proam ammonia technology installed following a comprehensive product evaluation, taking more than five months to complete.
Pollution & Process Monitoring have also secured significant international business supplying the analyser to countries which include India and China. Hopefully the UK manufacturer can build on this success and export even greater numbers, to help reduce the UK trade deficit!

For further information on how PPM can support your instrumentation requirement please contact:
Steven Tuck
Pollution & Process Monitoring Ltd
Tel: 01732 882044
Fax: 01732 780190
Email: s.tuck@pollution-ppm.co.uk