December 2010
DWR Cymru Welsh Water orders effluent monitoring kiosk
The Five Fords waste-water treatment facility in North Wales has ordered a monitoring kiosk equipped with a Protoc 300 TOC and a Proam ammonia analyser. The instrumentation will continuously monitor at the inlet, screened sewage with data stored and graphically displayed, on a touch screen Spyder controller. Sample delivery and preparation is using a peristaltic sample pump and two paper band filtrations systems. Additionally an IQ Sensor Net Sensolyt pH monitor with an external dip sensor will provide continuous pH measurements.
UK Brewery selects Protoc TOC technology
The Heineken brewery in Manchester has ordered a Protoc 300 TOC analyser with membrane sample preparation to monitor site effluent. The water quality instrumentation has been installed in a small GRP secondary enclosure complete with lighting and frost protection.
International sales build on previous success
We have supplied another Protoc 300 to Croda at Chocques, northern France via our distributor Proanatec. The treatment plant is to be run by Veolia Water and the PPM instrument was specified due to the positive experience the site has with other established Protoc TOC analysers.
The largest Indian Agrichemical manufacturer selects Protoc 300
Forbes Marshal has taken delivery of another Protoc 300 TOC analyser. This instrument is for an effluent treatment project for the Deepack Fertiliser Company located in Mumbai. The agrochemical manufacturer complies with ISO9001 and ISO 14001; supplying agricultural nutrients throughout western India, methanol and IPA to industry.
November 2010
Dwr Cymru Welsh Water selects FDO 700 IQ technology
Two optical FDO700IQ dissolved oxygen systems have been commissioned at Llanant WwTW near Swansea on a surface aeration treatment facility. The WTW product was selected for the low maintenance and it's measurement reliability, as demonstrated during a recent performance evaluation. The continuous monitoring at Llanant will allow process engineers to mechanical adjust aerators to the optimum depth and consider how during periods of low-load, energy can be saved by switching off unecessary aeration.
China continues to invest in Proam technology
Another order for ten Proam ammonia analysers was received this month; five analysers were immediately dispatched to Shanghai Source with five to follow.
Protoc supply to the Indian Oil Corporation Panipat Refinery
Forbes Marshall has placed an order for a Protoc 300 TOC analyser intended for the Panipat Refinery, to compliment existing Protoc technology. The latest instrument will be installed by Forbes Marshall to monitor the influent to treatment works measuring 0-5,000 mg/L TOC and communicating data using a RS232 output.
October 2010
Growhow in Cheshire order a water quality analyser kiosk
The fertiliser manufacturer has ordered a walkin analyser kiosk which will be equipped with a Protoc 300 TOC analyser and a Proam ammonia monitor. Sample delivery and preparation is using a peristaltic sample pump and a paper band filtrations system providing filtrate to the Protoc TOC analyser. The instrumentation will continuously monitor and re-circulate process liquor after an oil water separator.
Protoc 300 TOC analyser supplied to Saudi Arabia
ISA Mannai our distributor in Saudi Arabia has ordered a Protoc 300 for the Manafig utility company located in the industrial city of Yanbu.
Protoc TOC sold to the Netherlands
PPM also secured an order for a Protoc 100 to supply EMMTEC the utilities company providing services to the industrial site at Emmen located in the west of the country.
September 2010
Two Protoc 300 analysers supplied to India
Two Protoc 300 TOC analysers have been purchased by Forbes Marshall India for the Hindustan Dorr-Oliver project which comprises construction of a waste-water treatment plant at a refinery.
Nisan Electric supplies Turkmenistan
A further two Protoc 300 TOC instruments were also supplied to Polimeks in Turkmenistan also for a waste-water treatment plant.
August 2010
Portable IQ Sensor Net for WwTW plant design
4D have procured a portable IQ Sensor Net system complete with sensor technology to report ammonium, nitrate, DO and turbidity. The system will be initially used to collect data to profile waste water sites earmarked for treatment upgrades, in Southern Water. The monitoring system will be battery powered but will also enable connection to 100/240VAC power supply to allow monitoring over extended periods of time. The instrumentation is housed in a robust water proof, transportable case with quick release connectors for power supply and sensors.
Chinese pharmaceutical ultra pure water application
Our Chinese distributor has secured a sale of two Protoc 100TL analytical instruments ultra pure water used within a pharmaceutical manufacturing plant to ensure the quality standards are met.
July 2010
United Utilities expands transportable monitoring capability
A further order has been received to supply United Utilities another towable trailer which can be rapidly deployed to monitor waste-water treatment facilities. In addition to a full suite of wet chemistry analysers, reporting TOC and key nutrients on pumped samples; a number of submersible sensors have also been selected for in-situ measurement. This approach will allow United Utilities to profile the treatment works and respond quickly to events to identify necessary process changes.
Shanghai Source secures additional business in China
Our Chinese agent secures orders for a further five Proam continuous ammonia analysers and a Protoc 300TL for a pharmaceutical application monitoring trace level TOC contamination.
Protoc technology destined for Turkmenistan
A Protoc 300 analyser has been delivered to Turkmenbashi City in Turkmenistan located to the north of Iran. The instrumentation will be integrated into the Pater treatment plant which abstracts water from the Caspian Sea by Polimeks, an acclaimed local engineering company. Once installed, the Protoc technology will provide continuous measurement of treated potable water following nano-filtration and reverse osmosis treatment. A special air purification system to maintain optimum carrier gas quality has been supplied with this system to ensure the most reliable measurement.
June 2010
Thames Water selects PPM for intake protection
PPM have been asked to supply additional intake protection instrumentation to Shalford WTW to compliment the existing oil on water monitoring installed on both intakes. The new installation will provide continuous measurement of ammonium concentrations to identify spillage and report water quality in real time.
Wessex Water selects FDO and Visolid technology
The latest IQ Sensor Net technology has been installed at two different treatment facilities at Shaftsbury WwTW. The new works has been equipped with a MIQ/T2020 system transmitting signals derived from six optical dissolved oxygen sensors and a Visolid sensor, that reports MLSS concentration over a Profibus protocol. Additionally two additional DIQ/S182 systems with the FDO optical sensor technology were installed to monitor and control the adjacent surface aeration plant.
Ammolytplus technology monitors Welsh Water effluent
The IQ Sensor Net technology has been commissioned at the Five Ford WwTW in the NE of Wales to continuously monitor the quality of the final effluent discharge. PPM has provided a fully engineered system complete with compressed air cleaning to automatically maintain the in-situ ammonium sensor, to reduce the frequency of site attendance and improve measurement quality.
Protoc Spyder and Web widens it's net to Seattle International Airport
PPM are pleased to announce that following an intensive tendering process that we have immerged victorious having secured an order to supply the Protoc Spyder and Web TOC analyser system. The monitoring instrumentation has now been delivered and will be installed to continuously monitor two points of surface water discharge at the International Airport.
May 2010
Welsh Water evaluates FDO performance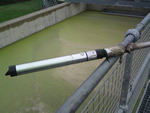 Comparative FDO performance trials were concluded at Cross Hands WwTW. The trial established that the latest dissolved oxygen sensor technology using an optical measurement across a specially treated Silicone membrane provided the same quality of measurement as the site reference Trioxmatic 700 IQ sensor (which has a porous Teflon non-stick membrane). Over the eight week evaluation period, no maintenance was performed and the membrane remained clean despite extremely challenging sample conditions. The standard deviation was better than 0.99 against the reference measurements confirming the suitability of this design for use in Liquors even when automatic compressed air cleaning is not installed. Read Full Report
Anglian Water commission further ammolytplus technology
Three different sites within the Norwich locality have selected the IQ Sensor Net ammolytplus technology for final effluent monitoring. Systems at Aylesham WwTW and Swardeston WwTW have been commissioned to demonstrate discharge compliance and another order has been received for Watton WwTW. All the installations have automatic compressed air cleaning to maintain the quality of measurement from the in-situ sensors.
Givaudan in Switzerland select Protoc 300 technology
Two Protoc 300's TOC analysers have been installed at Givaudan, the reputable fragrance and flavour enhancer manufacturer located in Switzerland. The instrumentation will be fully commissioned in July with Profibus communications providing continuous data streaming of the river water quality prior to abstraction with an additionally monitoring point at the cooling towers, to ensure process compliance.
Shanghai Source builds on previous success
Our Chinese agent built Shanghai Source Instrumentation Company has taken delivery of five additional ProAm ammonia monitors intended for use on effluent wastewater in Shandong Province. Additionally they have secured an order for a Labtoc TL which will be supplied to a pharmaceutical company, located near Shanghai, who wants to test their purified process water to according to USP requirements.
April 2010
Welsh Water go mobile
DwrCymru Welsh Water have just installed their first mobile monitoring station at Five Fords WwTW. The towable trailer system can be temporarily installed for short term evaluation and has been initially employed to monitor the effluent load entering the works to identify when peak loads occur. A suite of instrumentation has been installed to provide continuous measurement of TOC, NH4, NO3, pH, S.S.,
Phosphate and Iron.
Wessex Water replaces upgrades with instrumentation from PPM
The IQ Sensor Net ammolytplus ammonium and temperature probe technology has been supplied to the Wooton Basset WwTW to replace the existing site instrumentation. The effluent post nitrifying sand filters and the combined effluent discharges are monitored by independent in-situ sensors which automatically clean using a compressed air supply. Both sensors digitally communicate to a central controller locally displaying concentration and communicating to telemetry.
Forbes Marshall secures order for instrumentation at refinery
Three ProAm ammonia analysers have been supplied through our Indian Agent to a joint venture project which is between the State-run Hindustan Petroleum Corporation's (HPCL) and Mittal Energy. The instrumentation will be installed at the new Bhatinda petrochemical refinery in Punjab in North India. The facility is expected to become fully operational in the first quarter of 2011 when it is predicted to have a production capacity of 9 million metric tones per annum.
March 2010
United Utilities selects Proam ammonia analysers to improve plant control
Proam ammonia monitors have been installed at the Davyhulme WwTW; one of the largest United Utilities wastewater treatment facilities. The analysers were initially installed for evaluation but following stringent comparative analysis were found to provide more reliable concentration data than the existing instrumentation which they have now permanently replaced. The instruments provide feed forward and feed back control at a large BAFF tertiary treatment process to reduce energy consumption and reduce operational costs. United Utilities have reported that both instruments have provided repeatable and reliable on-line measurement which is fundamental to efficient aeration control.
Wessex Water equips with PPM instruments
The Evershott WwTW has installed the latest PPM instrumentation to control the treatment process and demonstrate compliance for the effluent discharge.
The Proam ammonia monitor has been complimented by a WTW IQ Sensor Net turbidity and temperature monitor to measure effluent quality. Additionally two optical FDO dissolved oxygen sensors along with a common controller have been installed to control the MBR treatment process.
February 2010
Wessex Water selects latest optical dissolved oxygen and MLSS technology
Eight optical FDO sensors and the Visolid sensor for mixed liquor measurement will be supplied to the Shaftsbury WwTW. The instrumentation will monitor the activated sludge processes at the diffused aeration and surface aerated treatment facilities. The technology has been selected because multiple measurements can be performed from a single controller and the reduced maintenance that the FDO sensor technology affords will also reduce operational costs.
Proam ammonia ordered for Becton desalination plant
Thames Water have placed an order for a Proam ammonia monitor that will provide continuous measurement of water quality prior to water abstraction from the tidal reaches of the Thames estuary. The application is extremely challenging because of the physical water quality and the increased salinity associated with this locality. However the design of the instrument has proved more than capable of reporting reliably even when the application is considered challenging
January 2010
Wessex Water automates to save energy with ammolytplus
The ammolytplus IQ Sensor Net technology has been purchased for Warminster WwTW and will be integrated alongside the existing optical FDO dissolved oxygen systems. The new direct measuring probe technology will be supplied with automatic compressed air cleaning and used to measure the ammonium concentrations directly in the aeration ditch to provide feed back control of the aeration process to reduce energy consumption and operational costs.
Severn Trent Water purchases battery powered IQ System
A battery powered system has been developed by PPM to allow Scientist to make temporary installations to collect continuous measurement at sites or locations where currently no water quality instrumentation has been installed. In the first instance the IQ system will be provided with direct ammonium probe technology although many other parameters may also be incorporated.
For further information on how PPM can support your instrumentation requirement please contact:
Steven Tuck
Pollution & Process Monitoring Ltd
Tel: 01732 882044
Fax: 01732 780190
Email: s.tuck@pollution-ppm.co.uk