December 2016
Semiconductor plant in Taiwan selects Proam ammonia technology
Atlas Technology of Taiwan, has taken delivery of two ProAm ammonia monitors designed for high range measurement. The instruments are ranged 0-15,000 PPM and will use a continuous, automatic sample dilution system to cope with the high ammonia range. The instruments will be supplied to two different sites for the Twain Semiconductor Manufacturing Company (TSMC). Two local contracting companies will be involved with the projects providing a turnkey installation for the end user at both locations.
Additional Proam ammonia analyser to be installed at a Shanghai Waste Water treatment facility
Shanghai Source Environmental Instrument Company based in Shanghai, China has placed an order for another ProAm instrument destined for a local waste water plant. The instrument will be used to continuous monitor the quality of the treated sewage over a calibrated range of 0-50 mg/L as N. The good reputation of both PPM & SSEIC played a significant part in winning the order.
Wessex Water place multiple orders
We have received multiple orders for monitoring the inlet and final effluent at waste water treatment facilities throughout Wessex Water. The instrumentation will be used to monitor key parameters such as turbidity, to determine treated water quality.
Realtech portable UVT monitor purchased for monitoring bilge water on ships
A portable UVT monitor measuring water quality using an optical method (UV254nm absorption) has been supplied for the purpose of measuring bilge water quality. A simple spot sample can be quickly analysed by the meter to determine the amount of dissolved organic compounds.
November 2016
PPM receives coveted MCERTS award for Protoc 300 TOC analyser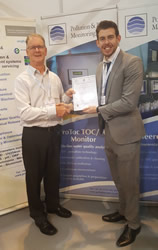 Joe Price from the CSA Group (SIRA) presented PPM at WWEM 2016, with the MCERTS certificate endorsing the Protoc 300 TOC analyser for use within UK regulated industry. The Protoc 300 analyser is manufactured in the UK by PPM; a specialist instrumentation company with considerable experience in providing the complete monitoring solution including sample delivery, bespoke systems and pre-installation.
PPM has a proven track record providing continuous monitoring systems to industry regulated in the UK by the Environment Agency. The MCERTS scheme was introduced to allow regulated industry to select instrumentation for "self- monitoring" in the knowledge that it has passed rigorous testing to a defined standard. The Protoc 300 analyser has been certified to the MCERTS standard since November 2011 and has been extensively installed for many applications including compliance monitoring.
DOW Chemicals increase water quality monitoring capability
Dow Chemicals in Jarrow has purchased a new turbidity monitor to compliment there existing Protoc 300 TOC analyser and pH monitoring system. The instrumentation is pre-installed within a GRP analyser enclosure and analyses the quality of surface water discharged to the River Tyne. A submersible pump continuously delivers sample to the monitoring kiosk for the pH and TOC determination. The new Turbidity measurement will be installed directly in the outfall chamber using the PPM hand rail bracket and suspension chain, to provide the best possible analysis for this particular application.
PPM supply six Protoc 300 TOC analysers to surface water at a pharmaceutical site
Six Protoc 300 TOC analysers complete with membrane filtration have been supplied along with pH and turbidity measurement into bespoke sample break tanks, for a prestigious pharmaceutical plant. The instrumentation will provide continuous water quality measurement at critical drainage locations to ensure surface water leaving the site has not been contaminated and the local environment is protected against accidental spillage.
Waste to Energy Plant uses Protoc 300 and pH analyser kiosk package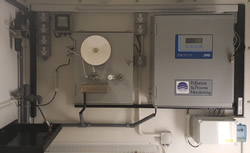 A recently commissioned waste to energy plant, located in the North East of England, is using instrumentation supplied by PPM to continuously measure TOC, pH & Temperature, at the surface water outfall. PPM pre-installed the analytical instrumentation within a GRP kiosk which also contained a sampling system to provide additional weather protection and to simplify the site installation.
The water quality data is output to the site's DCS system for control and display within a central control room. The plant will take 90% of Merseyside and Halton's residual waste minimising landfill and ensuring compliance to the European Union Landfill Directive. It will play a key part in combating climate change by reducing greenhouse gas emissions created by landfill and displacing fossil fuel burn. The result will be a CO2 reduction of approximately 127,335 tonnes a year.
October 2016
Wessex Water purchase Proam technology for Westbury WwTW
The Westbury WwTW located in Wiltshire will be receiving a Proam ammonia monitor to replace existing instrumentation located on the final effluent discharge. The Proam ammonia monitor will provide continuous measurement and be configured with an automatic acid cleaning system, to clean the sample transfer line and reduce instrument maintenance.
Surface Water monitoring kiosk delivered to North London distribution centre
PPM have engineered an analyser kiosk comprising the Protoc TOC analyser, the Chemitec pH and turbidity monitors with sample preparation and distribution which has now been delivered to Gist - the North London Logistics site, serving Marks and Spencer. The water quality instrumentation has been designed to provide continuous measurement and control of surface water from the hard standing areas to ensure optimum quality is maintained.
Two Protoc 300 TOC analysers supplied to an Indian refinery cooling water application
Our distributer, Forbes Marshall has placed an order for two Protoc 300 TOC analysers both ranged 0-30ppm. The application is for a refinery on the south-east cost of India. The Protoc instruments will be monitoring to identify hydrocarbon breakthrough on cooling water return lines. The TOC analysers will be mounted in a purge panel supplied by Forbes Marshal for operation in a Zone 1 hazardous area. The project is in conjunction with Jacobs Engineering and Paharpur Cooling Towers Ltd.
September 2016
Proam Ammonia purchased for agricultural waste water treatment plant
The Proam ammonia monitor has been supplied to provide final effluent quality monitoring after an advanced aeration process, treating agricultural waste water for a new treatment plant located in Wales.
South West Water purchase Proam technology
Two Proam ammonia monitors with membrane filtration and automatic compressed air cleaning have been purchased to provide independent monitoring at two locations pre and post read bed treatment, at Newton Ferrers WwTW. The instrumentation which has been previously evaluated by South West Water, will be configured 0-5.00mg/L N, has been selected to provide improved accuracy at low concentrations, for this site which has a discharge consent at 1.0mg/L N. The instrumentation will continuously monitor the nitrification process to demonstrate compliance and provide trend data. 
Additional Proam ammonia monitors ordered for UK Lucite site
The UK Wilton site produces acrylic based products and is the principle R&D facility within the EMEA region. Following a successful product evaluation last year, two Proam ammonia monitors where installed earlier this year to monitor process waste streams. Two additional two Proam ammonia monitors have been supplied to the Lucite site to monitor two further waste streams.
Protoc 300 analyser for Polish Refinery application
BP Techem has taken delivery of a Protoc 300 TOC analyser range 0-10ppm for use in a leading Polish refinery. The client, PK Orlean, will use the TOC on the demin water plant feeding a Combined Cycle Gas Turbine for the plants power generation. Alarm levels will be set to warn of a rise in TOC which can adversely affect the power plant.
Proam ammonia monitor to be installed in China
Our distributer Shanghai Source Environmental Instrument Company has placed another order for a ProAm ammonia monitor. This instrument is ranged 0-500mg/L as N and will be used to monitor a sample within a local treatment works. Our distributor will be assisting with the installation and the client will be providing their own sample acquisition system for continuous monitoring to help with control of the sewage treatment process.
August 2016
International success for the Proam ammonia monitor
A total of 15 Proam ammonia analysers will be exported to end users such as Shin-Etsu - a silicon wafer manufacturer; Winbolt Inc. who manufacturer static and dynamic ram memory and TMSC (Taiwanese Semiconductor Manufacturing Company) a multi-faceted organisation, with many manufacturing plants within Taiwan.
Protoc Total Organic Carbon analyser supplied to India for cooling water application
Our Indian distributor has placed an order for a Protoc Total Organic Carbon analyser which is to be used on a cooling water application. The instrument is ranged 0-20ppm TOC and is to be supplied with a wash option which will help to keep the sample lines free of biological growth.
Rigorous ISO 9001:2008 quality standard audit completed
This month also saw a rigorous two day annual surveillance audit carried out by the highly accredited Sira Certification Services Ltd. This was to verify that the Company's quality system continues to conform to the ISO 9001:2008 quality standard and that the gap analysis and transition process to the new ISO 9001:2015 is on course. This audit visit was to also undertake a recertification examination of the Protoc 300 MCERTS accreditation. The latest MCERTS certificate is now valid until August 2021 and can be viewed here:-
http://www.csagroupuk.org/wp-content/uploads/2016/08/MC06007705.pdf
July 2016
GSK Montrose place order for Protoc TOC analyser kiosk
A walkin analyser kiosk equipped with our Protoc analyser technology is to be provided to the GlaxoSmithKline site in Montrose, Scotland. Two Protoc 300 TOC analysers will be installed within the walkin analyser kiosk complete with dedicated membrane sample preparation before being shipped to site on a Hiab. The instrumentation will provide continuous water quality measurement on a surface water discharge to a local water course. The instrumentation has been selected based on reliable operation of another Protoc monitoring system, installed more than ten year previously supplied by PPM.
Wessex Water purchase pH and turbidity instrumentation
The continuous measurement of pH at the inlet to waste water treatment facility provides forward warning of large pH excursions which can otherwise affect down- stream biological processes. The quality of discharge can also be continuously measured by a turbidity monitoring system providing water quality data, on the final effluent discharge to a local water course.
Heineken approve article for Protoc TOC analyser technology
After recently installing the eighth Protoc TOC analyser at Heineken - the John Smith's Brewery located in Tadcaster, Heineken have approved a short article outlining where the instrumentation is used through out the production process.
Read more: Click here to link to Heineken article
June 2016
Customer Survey
As part of our ISO 9001:2008 commitment, Pollution & Process Monitoring has just completed a customer survey, for the year ending April 2016. The survey was sent to customers requesting feedback on water monitoring schemes provided by PPM, in the previous 12 months. Respondents scored our performance on twelve individual categories including product, project delivery, value, sales & technical support. Completed surveys were received from a diverse range of end-users, spanning Water & Power Utilities, International Airports, Food & Beverage, Manufacturers and our International Distributors. The UK Companies included Anglian Water, Heineken, Lucite, Northumbrian Water, Manchester Airport, SSE and United Utilities.
We are very pleased to report that our customers provided excellent feedback. Overall 94% of the responses fell within the satisfied status and 71% were totally satisfied. Only a few responses where categorised as neutral where the relevance of the question appears to have affected their response.
There was also space for the customer to write some additional feedback. It give us great pleasure to select a few of the really positive comments:
Birmingham International Airport wrote "PPM provide a great service".
South West Water responded "Outstanding level of technical knowledge and support. Very high quality products".
Wessex Water commented "very good start to finish".
Thanks to all the companies and individuals who have responded. The positive comments really do mean a lot as we great take pride in our work, the products we manufacture and distribute and the service we provide. Thanks again!
May 2016
Anglian Water purchases the Proam ammonia monitor technology for Rayleigh WwTW
A Proam ammonia monitor will be installed at Rayleigh WwTW to provide continuous measurement of ammoniacal-nitrogen. The analyser will be supplied pre-installed into a GRP enclosure, suitable for hand rail mounting. The Proam ammonia monitor will be located on the final effluent, post UV treatment. A pumped sample to a membrane filtration system will prepare sample for analysis to prevent bio-filming within the analyser.
Wessex Water Purchase Proam ammonia monitor for Petersfinger WwTW
A Proam ammonia monitor has been purchased for installation at the Pertersfinger WwTW in Salisbury. The instrument will be located on the final effluent channel providing continuous monitoring of water quality. A pumped sample to a membrane filtration system will prepare sample for analysis.
Six Proam ammonia monitors destined for Taiwan
Our Taiwanese distributor Atlas Technology, has place a new order for six ProAm ammonia analysers. The project is delivered in conjunction with a main contractor providing a turkey treatment system complete with on-line monitoring. The end user is the Taiwan Semiconductor Manufacturing Company (TSMC). TSMC's environmental policy, as defined by Chairman Dr. Morris Chang, is "to do our utmost to achieve environmental sustainability and to be a world-class company in environmental protection" highlighted by a series of water treatment projects which have incorporated our measurement technology. Four of the ProAm instruments will be within the standard 0-500mg/l measuring range while the other two are ranged 0-3,000mg/l and incorporate our automatic sample dilution system, designed to allow accurate extended range measurement.
May 2016
Anglian Water purchases a Proam ammonia monitor for Hundon WWTW
We have received an order to supply a Proam ammonia monitor, pre-installed into a walkin analyser kiosk, for a tertiary treatment upgrade at AWS Hundon WWTW. The Proam ammonia monitor will provide continuous water quality measurement after the new SAFF tertiary treatment facility. The analyser will be installed along with our membrane filtration system which reduces analyser maintenance.
Anglian Water purchases the Proam ammonia monitor technology for Southminster WwTW
A separate order to supply a Proam ammonia monitor, pre-installed into a GRP enclosure suitable for hand rail mounting, has been received for Southminster WwTW. The Proam ammonia monitor will be installed immediately adjacent to the aeration ditch providing aerobic treatment to reduce ammoniacal-nitrogen. A pumped sample to a membrane filtration system will prepare sample for analysis.
Wessex Water places order for turbidity monitoring kiosk
PPM will engineer a turbidity monitoring kiosk to provide continuous measurement at Sherborne WWTW. The measurement is currently performed using an in-situ probe however entrained air in the sample, causes measurement interference and false high alarms. Consequently, PPM after consultation with Wessex Water and a site inspection, has designed an off-line measurement system, allowing for sample degassing prior to the turbidity measurement to facilitate representative and reliable measurement.
Wessex Water orders instrumentation for Ammonia, Turbidity, Dissolved Oxygen and Temperature measurement
Wessex Water has selected instrumentation from PPM for a wide range of continuous monitoring applications high lighting PPM's extended measurement capability. Some of the monitoring applications are very simple requiring temperature measurement and others need robust sensor technology capable of withstanding the demands of a harsh waste water environment.
March 2016
Anglian Water at Attleborough WwTW selects Proam ammonia technology
PPM have assembled a pre-mounted instrument panel to simplify the installation of a Proam ammonia monitor, at AWS Attleborough WwTW. The Proam ammonia monitor will be installed (with membrane filtration and a pumped sample) into an existing kiosk, located adjacent to the final effluent chamber. The instrumentation will provide continuous water quality measurement prior to discharge to the local water course. The Proam ammonia monitor has been selected because of the reliability and accuracy, the measurement technology offers.
AMEY-B&V purchase ProAm ammonia monitors for Wetherby Yorkshire Water WwTW
After installing a new TNTF process to polish existing final effluent at Wetherby WwTW, two ProAm ammonia monitors were installed to monitor the inlet and outlet of the new process. PPM also provided the proven membrane filter to reduce maintenance requirements, along with two compact handrail mounted secondary enclosure to provide weather protection for the instrumentation and associated reagents. The ProAm was selected because of the low capital, operational and installation costs.
Forbes Marshal India purchase two Protoc TOC analysers and a Proam Ammonia analyser
Forbes Marshal has taken delivery of two Protoc TOC analysers and a Proam Ammonia monitor required by separate clients. The Protoc 300 analysers are ranged 0-50,000ppm with automatic dilution for Indian Oil Corporation Limited (IOCL) waste water treatment facility located at a refinery, to the east of the country. The Proam will be monitoring the waste from a sewage treatment works supplied to the Sobha Corporation, responsible for a business development project.
February 2016
Affinity Water purchase microtol turbidity instrumentation
Twenty One Turbidity monitor were purchased to replace old instrumentation at potable water production sites within the Claylane catchment area. This latest purchase order for the microtol turbidity meter follows widespread deployment of the HF Scientific technology, spanning a considerable period of time approaching 20 years duration.
Anglian Water selects PPM ammonia monitor for Carbrook WwTW
PPM have engineered another final effluent ammonia monitor for a small treatment facility at Carbrook to provide continuous water quality measurement on the final effluent discharge to a local water source after reed bed treatment. The instrument will be used to maintain compliance and collect data for design purposes.
Safe Contractor award to PPM
PPM has once again demonstrated their commitment to heath and safely by passing the stringent audit requirements of the Safe Contractor award. The Safe Contractor scheme looks at, among other things, management culture, training methods, risk assessments and best practices. The certificate is valid for 12 months. In addition all PPM service engineers have completed safety passport training, a separate qualification for the individual.
Protoc 300 sold to Polish Brewery
Pomeko division of BP Techem our Polish distributor has received an order for a Protoc 300 with a paper band filter system for the Fortuna Brewery, located in Miloslaw. Brewing in Miloslaw dates back to 1626 with the Fortuna brand being established in 1889. Passed events had seen the Brewery occupied by the Nazis and then nationalised by the communists. Recent investments have seen the Brewery become modernised, including the installation of water quality instrumentation playing a key role in waste minimisation. The Protoc instrument is ranged 0-5,000ppm as Total Carbon (TC), enabling all events to be identified and alarmed in real time.
January 2016
Six Proam ammonia monitors supplied to Taiwan for semiconductor application
Our distributer Atlas Technology, has placed an order for six ProAm ammonia monitors after securing a project with Mega Union Technology who specialize in the supply of industrial wastewater recycling and treatment systems. The project is for the end user Taiwan Semiconductor Manufacturing Company, Limited (TSMC) located in the Hsinchu Science and Industrial Park in Hsinchu, Taiwan. Three ProAm analysers incorporate sample dilution to extend the measuring range to 3,000 PPM N and three instruments are of standard configuration ranged 0- 500 PPM as N, which will be used to measure treated effluent.
Heineken continues to use Protoc TOC analyser technology for Brewhouse application
After 10 years continuous operation, Heineken has decided to replace an existing Protoc TOC analyser with the latest Protoc 300 TOC model. The instrument has been installed in a GRP analyser kiosk, at a new location which provides weather protection and improved access. The analyser kiosk (pre-installation completed by PPM) also houses all auxiliary equipment away from the hot, steamy Brewhouse environment which previously, was the only possible location for the instrumentation. The Protoc 300 TOC analyser, which carries the MCERTS approval, provides the end user with the highest level of confidence in measurement performance. Auto calibration, auto zero, and auto wash are all incorporated in this model reducing operator input. All signals are output to the site computer system, providing site-wide access, to the measurement data and instrument status.
Hall & Woodhouse install two new Protoc 300 TOC analysers on the new treatment plant
Hall & Woodhouse who brew and bottle brands such as Tanglefoot, Badger, the Fursty Ferret and the Hopping Hare have recently upgraded their treatment facility at their Dorset Brewery. Two new Protoc 300 TOC analysers have been installed to provide continuous measurement. Both instruments have been supplied with Paper Band Filtration and fitted onto PVC backpanels within a brand new building associated with the new treatment facility. One instrument monitors the load to the treatment plant and the other provides continuous measurement of the discharge.
December 2015
Wessex Water purchase Proam ammonia monitor for temporary site evaluation
Wessex Water has purchased a Proam ammonia monitor which uses ion selective technology, to continuously report and data record ammonia concentrations in waste water. The instrument is to be mounted in a small GRP enclosure suitable for handrail mounting which also contains a heater to provide frost protection, lighting and the reagents. The enclosure allows for temporary installation and transportation between sites, by car. The instrumentation can be quickly deployed to allow Wessex Water Scientists to monitor site performance and optimise upstream processes. The Proam instrument automatically calibrates against two known calibration standards to maintain optimum measurement performance even at low concentrations of ammonia, at sites with strict discharge consents.
Proam chloride & UV254nm organics measurement at pharmaceutical plant
Our Irish distributor has secured a project to continuously measure chloride and dissolved organics, at a pharmaceutical manufacturing plant. The instrumentation will be installed to provide continuous measurement of a process effluent from a water softening plant to ensure that the levels of dissolved salts as Chloride and the organics, measured optically at a frequency of 254nm, are below threshold values. The Proam chloride monitor will automatically calibrate against two calibration standards to maintain calibration. The UV254nm instrument will be automatically maintained using compressed air cleaning and will be checked against two known calibration solutions, to verify measurement performance.
November 2015
Two Proam ammonia monitors purchased for a semi-conductor fabrication plant in Taiwan
Our distributor in Taiwan, Atlas Technology has placed an order for two Proam ammonia monitors for their client Micron Memory, Taiwan. Located in the city of Taichung, this FAB plant manufactures random access memory products for applications in personal computers and tablets. The Proam ammonia analysers will monitor waste-water generated by the fabrication plant to determine the load entering the treatment facility. Both Proam ammonia monitors incorporate an automatic dilution system extending the measurement range to 0-10,000mg/L as N.
Anglian Water purchase Proam ammonia technology for Sculthorpe WwTW
The Proam ammonia technology has been selected for continuous measurement and control of a SBR nitrification process at AWS Sculthorpe WwTW. The Proam ammonia monitor will be installed in a small hand rail mounted enclosure providing weather and frost protection to the analyser. Sample will be prepared using membrane filtration to remove biology and suspended solids prior to measurement. The Proam technology was selected for this low range application where the site consent is only 2.00mg/L N, to provide accurate measurement to verify that the treatment process is performing satisfactorily.
PPM installs a continuous water quality monitoring system at the Lilleshall National Sports Centre
Lilleshall National Sports and Conferencing Centre, located in Shropshire, approached PPM to provide continuous water quality measurement for the waste water derived from the facility. The turbidity instrumentation, continuously measures the physical water quality after treatment. The site originates back to 1831 when it was formally used as the hunting lodge. Nowadays, the venue accommodates Lilleshall National Sports and Conferencing Centre which is a flagship residential training venue and award winning National Centre of Excellence.
October 2015
Protoc TOC technology selected by Wessex Water for waste water monitoring
A new Protoc TOC analyser is to be installed at Compton Bassett STW to measure the organic load entering the work which is affected by influent from a local landfill operation. The instrument will measure the Total Organic Carbon in real time and allow and indication of the Chemical Oxygen Demand.
Wessex Water installs PPM Dissolved Oxygen monitoring at Westbury WwTW
Wessex Water has taken delivery of a dissolved oxygen monitor to replace existing technology for the Westbury WwTW. The instrumentation has been selected as a reliable, low maintenance alternative to the technology originally fitted to the aeration lane.
PPM provides surface water pH monitoring solution during construction phase
One of the leading specialist retail and forecourt construction contractors in the UK has approached PPM to provide a measurement solution for a new forecourt project in South Wales. During the construction of the forecourt, the Environment Agency has stipulated that the pH of the surface water discharge is continuously monitored. PPM have provided pH instrumentation with a local display and outputs, to measure the surface water discharge for any increase in pH should cementaceous material affect the water quality.
Water Utility purchases ten portable UVT monitors for potable water production
We have supplied ten UVT monitors to be used by water production scientists needing to check compliance to the drinking water directive. The portable, battery powered instruments have been dispersed across the catchment so sites performing UV disinfection can be regularly checked. UV254nm is absorbed by chemical (organic and inorganic chemistry) and physical (turbidity) constituents. Regular spot checks are used to ensure that the UV lamp intensity is correctly set according to water quality.
For further information on how PPM can support your instrumentation requirement please contact:
Steven Tuck
Pollution & Process Monitoring Ltd
Tel: 01732 882044
Fax: 01732 780190
Email: s.tuck@pollution-ppm.co.uk