November 2017
November is typically a busy month in the UK and this year has not been an exception. We have received purchased orders from both the Water and Industrial sectors. Two Realtech UVT monitors have been supplied to a contractor working for Southern Water to monitor a potable water treatment process. We have received a purchase order for a bespoke build from Anglian Water to provide a portable ammonia monitor. Additionally, we have a significant purchase order from a UK Life Science Company, requiring a turn-key project to monitoring their site effluent discharge. This project will require integration of analytical measurement technology with sample preparation into a large walk-in analyser housing – the work will be completed by PPM engineers, early in the New Year.
Additional UK Protoc TOC sales were made to a speciality chemical manufacturer in Grangemouth and to two petrochemical plants in Middlesborough. UK commissioning included a new ammonia installation within South West Water for final effluent monitoring and a TOC and phosphate trade discharge monitoring system at BMW, Cowley. We also attended Aquatech in Amsterdam which provided an opportunity to meet with Chemitec and Realtech, to discuss new product development. International sales included our Protoc TOC technology used for surface water monitoring and control.
Protoc 300 sales to Warsaw Airport
BP Techem our distributor in Poland has placed an order for another Protoc 300. This TOC analyser is a replacement instrument for Warsaw International Airport. The Airport is the largest and busiest airport in Poland handling between 40-50% of Poland's air passenger traffic. The original Protoc was supplied in 2005 and the operators were keen to have a like-for-like replacement due to the positive experience and ease of use. The Protoc TOC analyser is used to provide continuous water quality measurement of surface water from the hard-standing discharged to a local water course.
Anglian Water purchase portable ammonia monitor
A portable ammonia monitor has been purchased by Anglian Water to allow for the temporary installation at waste water treatment sites, during winter months. The portable instrument will record data to allow Scientists to gain an in depth understanding of the nitrification treatment process especially where continuous measurement is not currently installed. The instrument has been bespoke built by PPM engineers, to allow for battery replacement in the field and simple data downloading to a USB memory stick.
Thermofisher Scientific order bespoke monitoring analyser kiosk from PPM
A significant purchase order for a walk-in analyser kiosk has been received to provide continuous trade effluent monitoring and control. PPM will pre-install a comprehensive suite of analytical technology covering key water quality parameters – nine in total. The kiosk will have wet and dry sections, complete with lighting and frost protection. Membrane sample filtration will be used to prepare sample for analytical measurement which includes our Protoc TOC, Proam ammonia and Chemitec phosphate analysers. In addition to various probe measurements, an automatic refrigerated sampler will also be installed to take representative discrete samples. All the signals from the instrumentation will connect to the site plc system which will control a divert valve to redirect effluent should the instrumentation detect further treatment is required.
October 2017
At PPM, we appreciate the need for speedy despatch of spare parts to support critical instruments in the field. We have dedicated personnel who manage the stock holding, packing and despatch to destinations around the world. Recently, we received another spares order from the Qatar Fertiliser Company for a Protoc which has now been running for over 20 years. We look forward to continuing support for this instrument for the foreseeable future. Our Protoc analyser technology has been supplied overseas which include water quality monitoring applications in India and China. In the UK, Wessex Water have installed instrumentation to profile a major waste-water treatment facility using key determinants.
Protoc TOC analyser supplied to Indian Refinery
Forbes Marshal of India have secured yet another Protoc TOC order for a refinery application. The instrument will be installed at the HMEL Bhatinda refinery located in the Punjab. The range is 0-20ppm TOC monitoring the cooling water return line for organic contamination. The instrument will be independently inspected and the testing witnessed prior to despatch. The completed and endorsed report will form part of the quality documentation for the client's project.
Protoc 300 TOC analyser supplied to China for river water quality monitoring
Shanghai Source Environmental Instrument Company has placed another order for a Protoc 300 TOC analyser. Ranged 0-20ppm TOC, the application is river water monitoring and will form part of a long-term data collection exercise. The project will establish the changes in the organic loading in the river over an extended period of time.
Wessex Water Commissioning of MLSS, Ammonia, Nitrate & Nitrite analysers
PPM have commissioned instrumentation at Weston -Super-Mare WwTW to continuously measure the treated liquors at this large Somerset waste-water treatment facility. All the signals are connected to the site Scopex system which data records so the Scientists can evaluate and optimise the treatment process. The instrument also provides local trending so operational staff can visualise the data and identify how the biological process is performing.
September 2017
September was a busy month for engineered systems, with PPM engineers completing a number of small GRP enclosures to contain turbidity instrumentation for use within a major UK Water Company. The enclosures include automatic compressed air cleaning of the turbidity sensor to maintain the condition of the optics and ensure reliable measurement for the waste-water final effluent applications. The PVC analyser panels have also been prepared for a final effluent monitoring scheme at BMW, Cowley which will include the Protoc TOC and Chemitec phosphate analysers. Our Protoc TOC analyser technology has been supplied to the UK energy market and other seas to an Indian Refinery. Additionally, the Realtech UVT instrument has been supplied to control a potable water treatment process to Southern Water. Commissioning activities included installations within British Sugar of an analyser kiosk containing TOC, ammonia, pH and Turbidity instrumentation which measures multiple sample streams.
Boral Bina Refinery in India install Protoc TOC technology
Forbes Marshal our Indian distributor, has just taken delivery of a Protoc 300 TOC instrument which has been ranged 0-10ppm. The analyser will be installed at the BORAL Bina Refinery for a condensate monitoring application. The analyser is just part of a larger integrated project to be engineered by Forbes Marshall. The Protoc TOC instrument included factory witness testing overseen by an inspector from Lloyds Register. The inspector indorsed the paperwork on behalf of Engineer's India Limited (EIL) who are coordinating the project, including the Quality Assurance Plan (QAP).
Southern Water purchase UVT instrumentation
A Realtech M3000 UVT instrument with automatic cleaning, is to be installed at a water treatment facility in Southern Water. The instrument continually measures the UV transmission at 254nm which is influenced by the physical and chemical constituents in the potable water. The reagent-less analyser, compares two different path-lengths in the same measurement, to compensate for potential calibration drift and cuvette fouling. The technique therefore provides the user with a high level of confidence in the reported result.
Protoc TOC analyser installed at a UK Gas Storage Facility
After more than ten years of reliable, continuous operation, a gas storage terminal on the north-east UK coast, has returned to PPM for an upgrade to their existing Protoc TOC system. The on-line monitoring application required measurement of two sample streams; the inlet and outlet to a reed-bed treatment facility. The continuous analysis provides the necessary assurance of successful waste-water treatment and also identifies the load entering the treatment plant. The new Protoc Spyder & Web TOC monitor has been supplied complete with the PPM membrane filter technology, providing sample preparation. The Protoc TOC analyser system was installed into a new GRP kiosk, commissioned and installed by PPM engineers.
August 2017
August has been a quieter month in the UK primarily due to the summer vacation. Nevertheless, we have received purchase orders for our Proam ammonia monitor for a final effluent monitoring application in Severn Trent Water and from BMW to supply a continuous effluent discharge monitoring system. Additionally, two bespoke monitoring systems for final effluent turbidity measurement have been engineered for United Utilities. We have received several international orders which included the supply of portable turbidity monitors to Nigeria and our Proam ammonia technology to Taiwan. We are also pleased to announce that we have successfully completed our ISO19001:2015 manufacturing audit which has certified our manufacturing procedures to the latest quality standard.
PPM certified to ISO 9001:2015 quality standard
Following an intense and in-depth audit by Sira Certification Services PPM are pleased to announce our ISO 9001 recertification. Over the last few months we have been working towards the transition from ISO 9001:2008 to the latest ISO 9001:2015 standard which involved a new perspective in some key clauses with a focus on dealing with risks and opportunities. The necessary amendment made to our Quality Management System were assessed by the lead auditor and found to exceed the requirements of the new standard. This evaluation along with repeated third party annual audit checks, will take us through to August 2020.
Large Chicken factory in the South West commissions continuous monitoring supplied by PPM
PPM has recently commissioned instrumentation for the analysis of Total Phosphate and Temperature, on the final effluent from a large Devon Chicken factory. The instrumentation was pre-installed within a walkin analyser kiosk by PPM complete with sample preparation, sample delivery, heating and lighting. Additionally, the BAFF treatment facility was monitored by a separate Ammonia monitor. All the data will be logged for reporting purposes.
BMW at Cowley purchase Protoc TOC analyser for continuous monitoring
The BMW site at Cowley which manufactures the iconic Mini, has purchased a continuous waste-water quality monitoring system from PPM. The instrumentation comprises our Protoc 300 TOC analyser along with a Chemitec ortho-phosphate colorimeter complete with membrane sample preparation and an automatic air cleaning system, to reduce maintenance. The instrumentation will be pre-mounted by PPM on to PVC wall boards to simplify the site installation. The instrumentation will provide continuous measurement to allow plant optimisation and compliance with the discharge consent.
Semiconductor plant in Taiwan purchase the Proam ammonia analyser to monitor effluent
Our agent in Taiwan has purchase another Proam ammonia analyser for a large semi-conductor plant in Taiwan. The ammonia analyser will be ranged 0-500PPM and used to provide continuous effluent measurement. The Micron facility manufactures NVDIMM-N; non-volatile flash storage to protect data loss during power failure in electronic devices.
July 2017
One of the highlights of the month was that our Protoc 300 TOC instrumentation appeared nationally on the BBC Countyfile program which featured how Manchester Airport was protecting a local nature trail and the River Bollin, from ingress of contaminated surface water. We have also been busy completing a number of significant analyser kiosk builds for two very different food industry monitoring projects. One application was to provide continual measurement for a sugar manufacturing process integrating TOC, ammonia, pH and turbidity measurement on key outfalls and the other for Total Phosphate & temperature measurement on the final outfall from a chicken processing facility in addition to ammonia measurement on the discharge from a BAFF plant. Additionally, we have supplied instrumentation to South West Water for final effluent ammonia measurement and our Proam analyser to Anglian Water also for continuous final effluent compliance monitoring. Internationally we have supplied our Protoc 300 TOC analyser to an interesting aquiculture project in South Korea.
BBC Countryfile visits Manchester International Airport & features PPM water quality monitoring instrumentation
PPM's Protoc TOC instrumentation was featured during a recent Countryfile broadcast (Sunday 30 July 2017) when the presenter Sean Fletcher visited Manchester Airport and met with Mark Stewart and Adam Perry from the Environment Team. The program explained how major engineering and constant monitoring was able to minimise the environmental impact from the busy international Airport on the surrounding countryside. Mark Stewart was filmed sampling perfectly clear surface water from the runoff before it enters the local River Bollin which passes under Runway 2.
He explained that the constant monitoring which was supplied by Pollution and Process Monitoring Ltd., was an integral part of the Airport's control system which could seal off the drainage system within 6 minutes, if an event was detected. Sean Fletcher the Countryfile presenter could be heard saying to Mark Stewart, "It's an amazing system you've got" after sampling the runoff which enters the River supporting brown trout and even otters. Some screen shots from the footage, show the Airport's operations and the continuous water quality monitoring supplied by Pollution & Process Monitoring Ltd.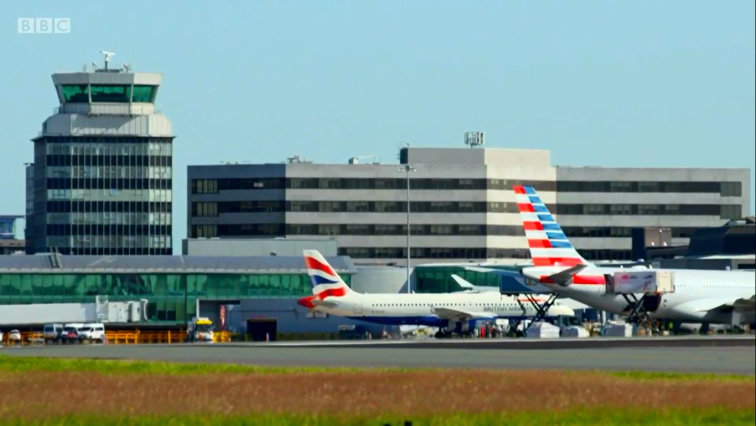 Manchester International Airport has significant run off into the drainage system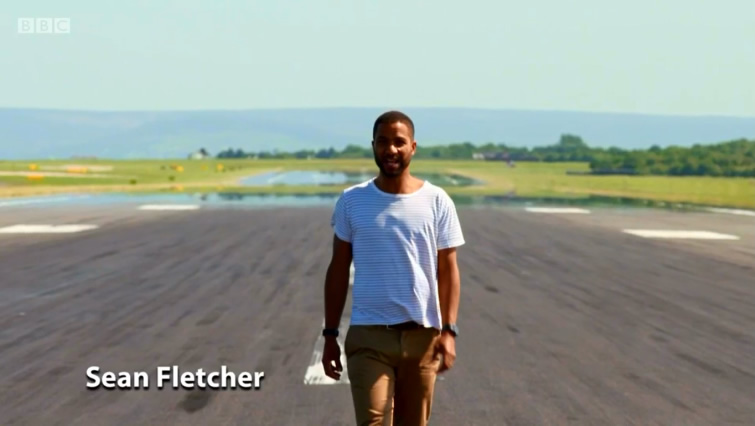 Sean Fletcher from BBC Countryfile does a piece to camera from the runway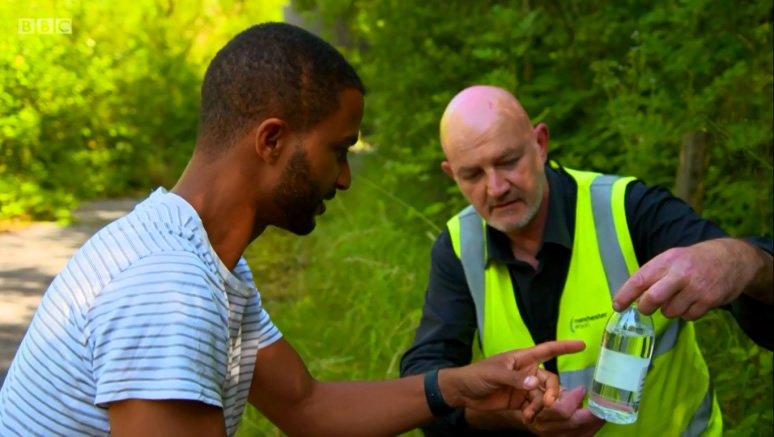 Sean Fletcher & Mark Stewart from the Environment Team sample the discharge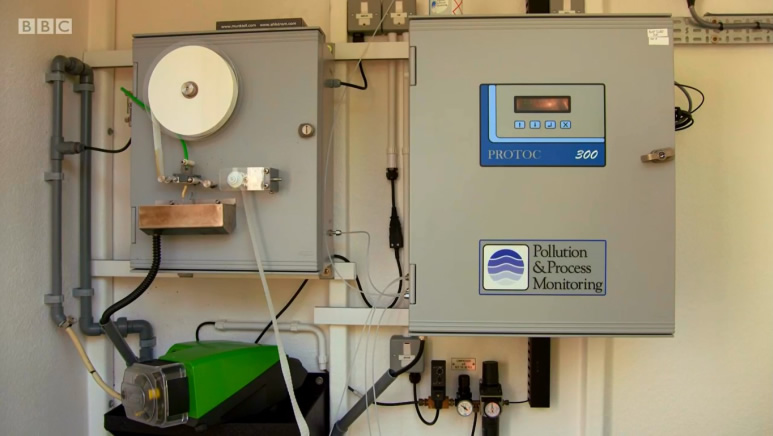 Protoc 300 TOC analyser system used to continuously monitor the discharge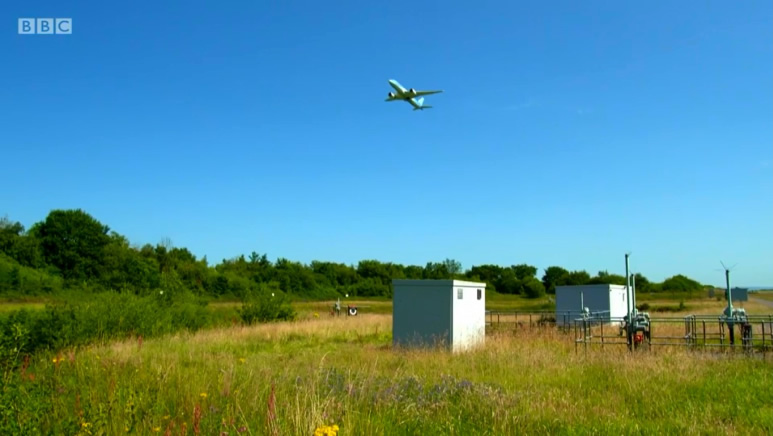 The analysers are pre-installed by PPM into GRP kiosks providing protection
Protoc 300 TOC analyser to be installed for Agriculture application in South Korea
Our distributor Dong Moon Environmental located in South Korea, has placed another order for a Protoc 300 TOC analyser. The instrument will be installed within a bespoke kiosk complete with sample preparation beside the Yedang Reservoir, situated in Yesan-gun to the west of Korea. The analyser ranged 0-20 mg/L TOC will continuously monitor the abstracted water from the reservoir which will be used for aquiculture at an important agricultural facility. An automatic acid cleaning option will be integrated to prevent algae contamination affecting the operation of the instrument. The instrument will also be equipped with a digital option for transmitting the data via an RS232/485 communications protocol.
June 2017
Despite one of the hottest Junes on record in the UK, there has been a flurry of activity especially within the municipal water sector. We have received further Proam orders for installations within Severn Trent and Wessex Water catchments to measure final effluent quality. Additionally, Southern Water have ordered a continuous UVT monitoring system for a potable water process whilst a Scottish Sea Farm has ordered a portable UVT monitor to enable them to obtain water quality measurement on discrete samples. South East Water has also placed a repeat order for turbidity meters to support potable water treatment at two of their sites in the southeast. We have also received orders from United Utilities to complete two small turbidity kiosk builds using dip probe technology with compressed air cleaning intended for continuous final effluent monitoring. Commissioning has taken place of four more final effluent turbidity monitoring stations, designed for low flow conditions, within Northumbrian Water. Overseas, repeat business included orders for an international US Airport purchasing our Protoc TOC analysers and a Proam ammonia analyser to Taiwan.
South East Water Purchase HF microtol Turbidity for potable water process monitoring
Three white light microtol instruments have been supplied to the South East Water Company for installation on to various potable water processes. Two turbidimeters will replace the former HF Micro200BW instrument at one site after many years of service and the third instrument will compliment existing microtol installations. The HF turbidity technology has been used for over 15 years by the Water Company and favoured for it's simplicity of operation and calibration, in addition to the proven reliability the turbidity instrument has demonstrated.
Northumbrian Water has four more low flow turbidity installations commissioned
Pollution & Process Monitoring have commissioned four more turbidity monitoring stations within Northumbrian Water, suitable for continuous monitoring of final effluent at sites which have either intermittent or low flow conditions. The monitoring stations have been bespoke engineered by PPM. They comprise small GRP enclosures providing weather protection to the instrumentation and ancillary equipment. The turbidity sensors have been installed within a special flow cell with compressed air injection to automatically clean the sensor and sample supply pipe work.
To allow for continuous monitoring on these small rural sites, a special stainless steel trough has been designed and installed in the effluent channel, to retain a small amount of sample for analysis. The complete design has been evaluated over an extended period of time on a number of Northumbrian Water sites to ensure the common approach delivers a reliable measurement solution which can then be replicated across the catchment.
Protoc TOC analysers purchased for surface water monitoring at a major US International Airport
Vanguard Controls Inc. in the USA has secured a substantial project for a west coast international airport monitoring project. The package consists of four Web analyser and two Spyder controllers supplied with Paper Band Filtration providing sample conditioning. The water quality monitoring system is configured with one analyser ranged 0-50ppm, two at 0-500ppm and another supplied with automatic sample dilution, achieving a measuring range of 10,000ppm TOC.
May 2017
Proam ammonia monitor supplied to monitor effluent quality at a Scottish freshwater Fishery
Our Proam ammonia monitor has been supplied to a contractor installing a new water treatment system. The Proam analyser will continuously monitor the water for the presence of ammoniacal-nitrogen. The installation will take place at Loch Fyne in Scotland. The instrument is to be installed within a large GRP building housing the control panels for the treatment system. A balancing chamber is immediately adjacent so a submersible sample pump can deliver sample on a fast sample loop to a membrane panel preparing sample for analysis.
Protoc 300 TOC analyser replaces an old Protoc Spyder & Web instrument after 15 years service
A new Protoc 300 TOC analyser has been installed at a chemical manufacturing plant located in the NE of England to monitor the balanced trade discharge. The instrument replaces an old Protoc analyser which had provided 15 years of continuous service. The existing sample preparation, sample delivery and analyser kiosk has been re-used.
Four MLSS probes commissioned at large UK Dairy
A large UK dairy has recently installed four MLSS monitors supplied by PPM to provide continuous measurement of suspended solids concentrations in their aerobic treatment. The MBR plant requires much higher concentrations than a traditional liquor treatment process so the installation of MLSS probe technology to continuously trend the suspend solids concentrations will provide optimum process control to compliment the existing DO monitors also supplied by PPM. Furthermore, PPM have attended site to configure each probe with it's own site calibration using three different MLSS concentrations which should then provide the best reproducibility and remove operator error from spot sample analysis.
Glowing customer feedback from recent ISO9001 questionnaire
As part of our ISO9001 company audit, we are pleased to announce that once again we have received glowing feedback for recent projects and from our distributor network. An instrument engineer at Wessex Water scored PPM maximum marks against our peers and remarked "the best supplier I have ever dealt with" and similarly Anglian Water commented "I give 10/10 for service and assistance in ensuring the reliability of both our installations" which were commissioned in the last 12 months. It was also gratifying to receive praise from our industrial customer base with Tracey Stevenson representing Leeds Bradford Airport who responded "I am completely satisfied with all services associated with PPM." We would like to thank all those taking part and their positive feedback which has reinforced our position as a leading instrumentation manufacturer.
April 2017
PPM visits Atlas in Taiwan to provide training to new staff
We visited our distributor in Taiwan to provide product and application training to more than 30 staff. With the influx of a number of new service engineers and an established installed base of Proam ammonia monitors, Atlas requested additional product training to be given at their Hsinchu office, just south of the capital Taipei. Two additional days were spent, at various semi-conductor manufacturing plants around Taichung to the south, to visit Proam ammonia installations measuring process waste water, to update operational software and optimise analyser configuration.

Protoc Spyder & Web TOC analyser kiosk to monitor a large gas storage plant in the NE of England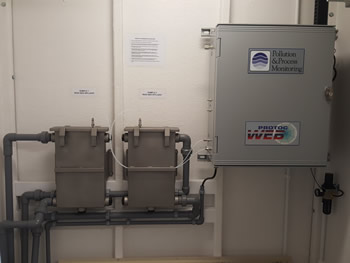 We have received a purchase order for an analyser kiosk comprising a dual stream Protoc Spyder and Web analyser system to replace an existing instrument which has been in place for more than 10 years continuous operation. The new installation, complete with membrane sample preparation, will continuously monitor surface water before and after read bed treatment. The TOC instrumentation will provide continuous water quality measurement to ensure that glycol coolant does not enter the surface water system at the gas storage facility.
Proam ammonia monitor supplied to Fortopco International Inc.
Fortopco International Inc our distributer in Canada, has placed another order for a Proam ammonia monitor. The new order is to compliment an existing Proam analyser on an expanding treatment works.
March 2017
Muller Wiseman Diaries purchase PPM instruments to control aerobic digestion plant
Four suspended solids sensors have been purchased to monitor and control an existing waste water treatment process at a large dairy facility in Somerset. The instruments are to be installed to monitor the MLSS concentrations which are an important aspect of the biological treatment process. The monitors will compliment existing dissolved oxygen instruments previously supplied by PPM which are used to control the aeration used for aerobic digestion.
Wessex Water purchase Proam ammonia monitor for Radstock WwTW
The latest purchase order is to supply another Proam ammonia monitor for continuous measurement of final effluent quality at Radstock WwTW. The instrument will be installed within an existing kiosk and receive a pumped sample prepared for analysis by a simple membrane sample filtration system also designed by PPM.
Severn Trent Water purchase a further Proam ammonia monitor
A Proam ammonia monitor has been purchased for installation at Stoke Bardoff WwTW within Severn Trent Water. The instrument will be installed within an existing analyser kiosk and provide continuous measurement of final effluent quality.
Wessex Water purchase waste water quality instrumentation
The site at Weston-Super-Mare will be equipped with instrumentation supplied by PPM continuously measuring ammonium, nitrate and MLSS to provide key measurement data after the nitrification treatment process. This data will enable process optimisation to improve effluent quality and reduce treatment costs.
Two Proam ammonia monitors supplied to China
Our Chinese distributor has secured another two Proam orders for final effluent monitoring on a discharge to river analysing over the range 0-10mg/L N. One installation is for an existing Proam user underlining long term client satisfaction.
February 2017
PPM supplies continuous monitoring to a new UK Waste to Energy Plant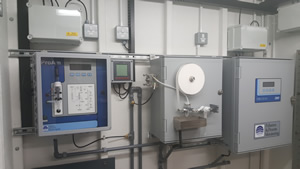 A new Waste to Energy facility in North East of England has received an engineered analyser kiosk from PPM to enable compliance monitoring under their permit to operate. Continuous on-line monitoring for Ammonia, TOC, Temperature and pH has been installed in a purpose built monitoring kiosk providing weather protection and a suitable environment to maintain the instrumentation. The Proam ammonia and Protoc TOC analyser are also built in the UK by PPM, at their offices in Kent.
Thames Water purchase Proam ammonia monitor for final effluent monitoring
Our Proam ammonia monitor has been selected for installation at a waste treatment facility within Thames Water for final effluent compliance monitoring. The analyser has been pre-installed within a handrail mounted enclosure and supplied complete with sample preparation to remove solids and biology before continuous measurement is performed covering the range 0-3.00mg/L N.h strength effluent entering the trade outfall.
Anglian Water purchases another Proam ammonia monitor for final effluent monitoring
Another Proam ammonia monitor has been purchased for installation at a site within Anglian Water to monitor the final effluent discharge to a river. The instrument has been selected for Stanbridgeford WRC following positive feedback from numerous installations across the Anglian Water catchment, where the instrument has been installed for similar compliance monitoring applications.
Forbes Marshal our distributer in India has repeated Proam ammonia success
Forbes Marshal our distributer in India has placed another order for a Proam ammonia monitor range 0-500 PPM. Destined for a project run by Sobha Development who are headquartered in Bangalore. Sobha has a strong emphasis on environmental management, water harvesting and high safety standards. The construction is for a Waste Water plant serving a business park in Hyderabad.
For further information on how PPM can support your instrumentation requirement please contact:
Steven Tuck
Pollution & Process Monitoring Ltd
Tel: 01732 882044
Fax: 01732 780190
Email: s.tuck@pollution-ppm.co.uk