December 2006
Four turbidity monitors commissioned for Wessex Water
Four more final effluent turbidity monitors were commissioned during December. The Visoturb sensors with S182 controller were installed at four different sites around the Taunton area to monitor the final effluent quality prior to discharge.
Anglian Water selects ProAm for intake protection
The ProAm ammonia monitor was selected to replace an existing ammonia monitor used to monitor the quality of abstracted water from a river located at Mareham WTW. The instrument was installed within a few days of receiving the order and configured to continuously monitors water quality; measuring ammoniacal-nitrogen at sub PPM concentrations.
Rohm Haas France adopts Protoc technology
Rohm Haas located in Lauterbourg have selected the Protoc Spyder and Web system to monitor their effluent quality discharged to the River Rhein. The installation follows an extensive evaluation which determined the instrument to be reliable in operation. The site uses a range of organic chemicals in the manufacturer of polymers, performance PVC and paint products.
ProAm evaluation in Poland results in permanent installation
The Proam ammonia analyser was evaluated alongside a number of instruments from alternative manufacturers and was purchased to control the wastewater treatment process at Zdunska Wola located in Central Poland. The analyser determines when the nitrification process has removed ammonia to below 2.00PPM after which the aeration is switched off to promote denitrification within the bioreactors. The trial was supported by our local agent Pomeko who will continue to support the installation.
November 2006
Presentation of MCERTS certificate to PPM
The formal presentation of MCERTS certificate to PPM took place at the WWEM exhibition Gala Dinner held at Telford in November.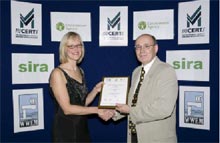 Catherine Wright (Head of Monitoring & Assessment, Environment Agency) presented the official MCERTS to Alan Apps for the Protoc 300 analyser. Alan is one of the founding Directors at PPM and provided technical support during the evaluation process which included a manufacturing audit to assess the robustness of the QA procedures.
The Protoc 300 model was selected for assessment since the design includes automatic cleaning and calibration which optimise the instrument's performance and enables self auditing. Industry regulated under IPPC legislation must demonstrate the application of the best available technology and install analysers to continuously measure TOC (Total Organic Carbon).
The TOC parameter has been specified for on line measurement where discharges are consented as COD (Chemical Oxygen Demand). The COD test is performed on discrete samples, typically on a monthly interval and correlated to the TOC measurement which is provides a continuous trace of the quality of discharge. Since the EA is promoting a "self monitoring" initiative to allow industry to more effectively manage their process and identify point source emissions, it has recognised the need to be able to certificate instrumentation as "fit for purpose". The MCERTS stamp of approval has been introduced to allow industry to select instrumentation which has passed a rigorous evaluation process comprising laboratory and field testing, so the data generated by these instruments can then be used with confidence.
October 2006
China makes further investment in PPM analyzer technology
Our Chinese agent Shanghai Source has taken delivery of another Protoc TOC water quality analyser to be installed at a Beijing Water Treatment Works. This instrument will accompany one of the ProAm ammonia monitors supplied in May 2006. The two instruments will now provide continuous measurement of water quality for both organic and inorganic quality prior to abstraction and potable water treatment.
Korean TOC intake protection application
Dong Moon Scientific, our Korean distributor has secured an order for a Protoc 300 analyser, ranged 0-30mg/L TOC. The instrument is intended to be installed at the Icheon Water Works to provide continuous monitoring of organic water quality prior to abstraction of the river water and potable water treatment.
September 2006
Further installation at Campbell Soup
The Campbell Soup Company at Worksop makes a further investment in PPM monitoring equipment to control the surface water discharge to a local water course. The Protoc 300 TOC analyser with membrane filtration has been installed to continuously monitor the surface water. Should the quality not meet stringent guidelines then it can be automatically contained by a Terminator system.
August 2006
Protoc 300 TOC analyser gains MCERTS accreditation
The Protoc 300 TOC analyser is the very first on-line water quality instrument that has been accredited to meet the stringent requirements of the Environment Agency's monitoring certification scheme. Certification was granted after extensive evaluation comprising laboratory performance testing, a period of on-site evaluation and a product manufacturing audit. This assessment process concluded August 2006 with the presentation to PPM of the MCERTS certificate.
The purpose of the scheme is to provide a framework within which environmental measurements can be made in accordance with the Agency's quality requirements. As industry needs to comply with the demands of more stringent environmental legislation such as IPPC permits, it is hoped that the introduction of this scheme will allow operators to select instrumentation which is therefore deemed by the Agency as "fit for purpose". The selection of instruments certified to the MCERTS program will also promote public confidence in the monitoring data that industry publishes.
MCERTS is managed by the Environment Agency's National Compliance Assessment Service and operated on behalf of the Environment Agency by Sira. The United Kingdom Accreditation Service (UKAS) accredits Sira to undertake the product and personnel certification activities which underpin the MCERTS scheme.

Whilst the scheme is not compulsory, it is hoped that the accreditation will also be internationally adopted and recognised as a stamp of approval for instrumentation especially when selected to monitor critical processes and installed for compliance monitoring applications.
July 2006
Two important installation where commissioned by PPM during July.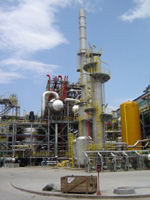 The first was a new PTA production facility engineered by Aker Kvaerner in the Chinese province of Zhejiang and built for the Hualian Sunshine Petrochemical Co Ltd. This site is destined to become one of the largest in Asia and will use the Protoc TOC analyser as a production management tool to minimise the waste-water. Another Protoc analyser will also be commissioned by our agent Shanghai Source at a future date on the second identical production line.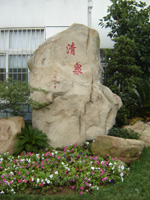 The second site visit was to a ProAm installation at Suzhou Wuzong District Waste Water Treatment Plant. The site moto inscribed in stone at the final discharge location is "clear spring". The installation of the ProAm ammonia analyser is in recognition of this philosophy and will continuously measures the quality of treated water which is discharged to river.
June 2006
ProAm commissioned for treated leachate application
A ProAm ammonia monitor has been commissioned at a landfill site in Enniskillen, County Fermanagh in Northern Ireland. The instrument has been configured to perform a measurement immediately prior to batch discharge and report the ammoniacal-nitrogen concentration to the plc controlling the treatment process.
Seven Ammolyt systems destined for Halifax WwTW
Seven Ammolyt systems for Halifax WwTW have been ordered to control the biological treatment process and monitor effluent quality. The systems have been supplied with automatic compressed air cleaning and pre-engineered by PPM in to secondary GRP enclosures to aid simple installation by the main contractor.
Wessex Water selects DO & Turbidity instrumentation from PPM
Instrumentation to monitor and control the Dissolved Oxygen within an activated sludge process at Tarrants Crawford in Dorset, has been supplied by PPM along with a separate final effluent monitoring station reporting turbidity. The instrumentation comprises the IQ Sensor Net (DIQ/S182) system allowing multiple sensors to be connected to a single controller providing measurement and diagnostic data.
May 2006
China imports water quality instrumentation
Our Chinese distributor Shanghai Source is taking delivery of three ProAm ammonia monitors and a Protoc 300 TOC instrument to analyse river water quality and communicate the measurement data using digital interfacing.
Dow Haltermann Ltd selects Protoc for boiler water applications
An order has been placed for two micro-Spyder and Web analyser systems to measure the boiler water feed line ranged 0-5.00PPM TOC for the Middlesbrough and Seal Sands production sites. The systems have been supplied with a special filter to purify compressed air to ensure optimum repeatability at low concentrations.
European Pharmacopeia TOC analyser purchased by Reckitt Benckiser
A laboratory TOC analyser ranged 0-500PPB suitable for analysing pharmaceutical grade water has been commissioned at the Reckitt Benckiser site in Beaston, Nottingham. The instrument was purchased through Boots who have themselves run two similar instruments in their Beaston laboratory for several years.
April 2006
Polish brewery success!
Pomeko our Polish distributor, builds on their previous success in the brewery sector. A further Protoc 300 TOC analyser has been ordered for the Zywic brewery to measure process effluent quality. The instrument ranged 0-2,000 PPM TOC is to be installed with a Paper Band Filtration system and is to be installed, commissioned and supported by Pomeko.
Corus purchases a third ProAm ammonia monitor
Following two previous installations that have given good reliability, the Scunthorpe site has ordered another ProAm ammonia monitor. The unit will be installed within an analyser kiosk also to be engineered by PPM and will monitor process water.
March 2006
Bernard Matthews continues to invest in technology from PPM.
We have received another order from the Bernard Matthews group to supply instrumentation which will be used to control and monitor the effluent treatment process at the Holton site in Suffolk. A Trescon analyser with two independent modules measuring phosphate and IQ Sensor Net systems for the measurement of pH will be installed to control the treatment processes and monitor the final effluent quality.
Birmingham International Airport continue to invest
Further investment in pollution monitoring instrumentation has been made at the Airport to accommodate the expansion to the runway. An engineered kiosk containing another Protoc Spyder and Web system and a DKK oil on water alarm system has been commissioned and will compliment the existing installations, which have given 24-7 monitoring of the surface water generated from the pavement areas.
Yorkshire Water commissions first Varion system
The first Varion sensor manufactured by WTW has been commissioned in Yorkshire Water. The sensor has been installed on a pilot plant to monitor the feed to the activated sludge process. The Varion allows a total of four sensors to be installed within a single probe housing. This installation comprises ammonium (measurement and references electrodes), nitrate and potassium for continuous automatic correction.
N-tron installs another Protoc for surface water
Another Protoc 300 has been installed in Southern Ireland for a major pharmaceutical company monitoring the quality of the surface water discharge. The instrument ranged 0-300 PPM TOC has been supplied with a Paper Band Filtration system and will be installed, commissioned and maintained by our Irish distributor.
February 2006
Premier Foods selects compliance monitor from PPM
Premier Foods has placed an order for an engineered kiosk containing a Protoc Spyder and Web system complete with Paper Band Filtration system to monitor and record the effluent quality at their site in Bury St. Edmunds in Suffolk. The instrument continuously reports the TOC concentration to ensure their trade discharge remains compliant with the imposed consent.
Biofuels employs PPM monitors
An engineered kiosk containing three Protoc 300 TOC analysers with Paper Band Filtration have been installed at the Biofuels site in Seal Sand near Middlesborough. The instruments have been installed to monitor surface water and ensure site discharges remain compliant.
Vopak communicates using latest fibre optic connection
The engineered system comprising a Protoc 300 with Paper Band Filtration system has been commissioned to monitor the quality of process and surface water discharged the estuary. The data is to be sent to a distant Spyder data recorder / display system located in a control room using a special fibre optic cable.
January 2006
WTW Italia secures significant project
WTW Italia secured a significant environmental monitoring project for the supply of eight Protoc TOC analysers which are to be installed at General Impianti in Ancona. The manufacturer of baby products has implemented a site wide monitoring program of ground water and surface water using our TOC analysers. The delivery of the instrumentation was completed this month and PPM will also attend site to commission the system once installed by others.
Eon Power Station, Port of Liverpool
A Protoc 300 TOC analyser has been supplied to Eon Power Station to monitor the incoming cooling water (supplied from the neighbouring Cargill's site and treated on site using activated carbon filters) to ensure organic contamination has been successfully removed. The instrument is configured 0-5.00 PPM TOC. It is supported by an air scrubber system to remove background contaminant in the compressed air feed to the analyser ensuring optimum repeatability of measurement.
Our French Distributor sells a PPM engineered monitoring station
Our French Distributor – Proanatec is supplying a PPM engineered kiosk complete with TOC analysers to a fine chemical manufacturer called PPG Sispy located in the Loire Valley. The instrumentation comprises two "paired" Web analysers providing 100% data collection onto a Spyder controller to ensure surface water is free from hydrocarbon ingress. Alarm signals are connected to a control room and if activated can also engage an audible and visual beacon installed on the roof of the analyser kiosk.
For further information on how PPM can support your instrumentation requirement please contact:
Steven Tuck
Pollution & Process Monitoring Ltd
Tel: 01732 882044
Fax: 01732 780190
Email: s.tuck@pollution-ppm.co.uk