December 2012
Low level condensate return Protoc TOC applications in India
Our Indian distributor has taken delivery of two Protoc TOC analysers for two separate projects. One for the Panipat Refinery measuring low level condensate return and ranged 0-1,000 PPB the other is for the Gas Authority of India Ltd. (GAIL) also on a condensate application ranged 0-10 PPM. Both Protoc TOC instruments were subject to our normal rigorous test protocol with Lloyds Register acting and reporting as a third party witness.
Wessex Water upgrade to latest FDO Dissolved Oxygen technology
An existing installation comprising two Trioxmatic 700 IQ DO sensors has been upgraded to the latest IQ Sensor Net FDO technology providing calibration free, optical measurement. The existing DIQ/S182 controller accepts two digital inputs and the new sensors can be simply exchanged using identical cabling and the same mounting arrangement. The DO sensors were replaced on the aeration ditch simply to match the FDO measurement technology installed on the recently constructed diffused aeration treatment plant.
November 2012
PPM awarded MCERTS certification for Protoc 300 TOC analyser at WWEM
PPM exhibited the latest water measurement technology at the recent WWEM 2012 exhibition held bi-annually at Telford, UK. The exhibition provided a great opportunity to launch the enhanced Proam ammonia monitor featuring upgraded software and increased functionality. Additionally, products from WTW including the latest UV-visible scanning probe technology - measuring dissolved organics and nitrate concentrations, demonstrated the superior build quality from this German manufacturer. PPM also received the coveted MCERTS certification (covering the next five year period) for the Protoc 300 TOC analyser. The exhibition proved to be a great success and we would like to thank all those that attended and kept us busy for the duration of the event.
October 2012
Kellogs upgrade existing Protoc TOC technology to MCERTS model
The Kellogs food manufacturing site at Trafford Park, Manchester have upgraded their existing Protoc Spyder and Web TOC analyser after 10 years continuous operation. The replacement Protoc 300 TOC analyser includes MCERTS certification and complements two other Protoc TOC installations to provide continuous effluent monitoring at different locations across the site.
Wessex Water upgrade existing effluent monitors at Merriot WwTW
An order has been received to upgrade the existing IQ Sensor Net system at Merriot WwTW with the latest ammolytplus ammonium technology. The water quality sensors will be fitted with automatic air cleaning to reduce maintenance and will be installed to provide continuous water quality monitoring to regulate the tertiary treatment process. In addition, a new Visoturb turbidity sensor will also be integrated in to the common IQ Sensor Net controller to monitor suspended solids concentrations.
September 2012
Thames Water purchase WTW nitrate monitor to measure water quality
The nitralytplus 700 IQ nitrate probe and IQ digital controller has been purchased to provide continuous measurement of nitrates at Hornsey, North London. The sensor will be integrated into an existing water intake protection monitoring panel supplied by PPM more than 12 years ago. The instrumentation continuous measures abstracted water for key water quality parameters.
Wessex Water employ pH & conductivity measurement technology at inlet to sewage works
Two IQ Sensor Net systems have been supplied for wastewater inlet monitoring at Wessex Water. The IQ Sensolyt pH system has been installed after the inlet screens at Gillingham WwTW to continuously measure the sample pH which can be affected by trade discharge. Whilst at Weymouth WwTW, a Tetracon conductivity sensor has been integrated into an existing IQ Sensor Net controller now providing continuous measurement of pH and conductivity at the inlet to the wastewater treatment plant.
Indian Pharmaceutical application for Protoc 300 TOC analyser to measure effluent quality
Forbes Marshall India has delivered a Protoc 300 TOC analyser for a Pharmaceutical wastewater treatment plant. The instrument will be installed to continuously monitor the water quality of the pharmaceutical effluent. The project is in conjunction with Aquachem Enviro Engineers Pvt. Ltd. (AEEPL) who is a leader in turnkey solutions for industrial water, wastewater treatment and sewage treatment plants specializing in the Pharmaceutical sector.
Protoc 300 TOC analyser supplied to Italian detergent manufacturer
Our Italian agent Atago Italia has supplied a Protoc 300 TOC analyser ranged
0-5,000 PPM for an industrial wastewater effluent monitoring application. The chemical manufacturer specialises in the supply of industrial detergents and they have installed their own wastewater treatment system. The regional environmental protection agency (ARPA Lombardia) has directed the manufacturer to install an on-line TOC analyser to continuously monitor downstream treatment processes to maintain effluent water quality.
August 2012
DWR Cymru Welsh Water selects FDO optical Dissolved Oxygen
Three IQ Sensor Net systems integrating the latest FDO 700 IQ dissolved oxygen sensors, has been supplied to Penybont WwTW. The process control instrumentation will be installed to upgrade the existing diffused aeration treatment. The process instrumentation complements the Ammolytplus ammonium measurement providing feed forward and feedback control of the nitrification process, supplied in February 2012.
JCB upgrade Protoc TOC analyser technology
Two Protoc 300 TOC analysers have been supplied to JCB at Uttoxeter, to replace the former Protoc model that was supplied more than 10 years ago. The Protoc 300 TOC instruments will provide continuous measurement of total organic carbon concentrations, at two separate surface water discharges, post oil - water interceptor treatment.
Repeat Proam ammonia analyser order for China
Shanghai Source Environmental Instrument Company, have ordered a further ten Proam ammonia analysers, six units will be installed for continuous river water quality monitoring projects and the remainder, will maintain a local stock holding.
Veolia Water purchase Protoc Total Organic Carbon Instrumentation
Two Protoc 300 TOC analysers with membrane filtration sample preparation have been supplied to our Polish distributor BP Techam, Pomeko division. The total organic carbon instruments are for an effluent monitoring project run by Veolia Water.
July 2012
Second Proam ammonia monitor installed at AWS Cambridge WwTW
Following the installation of the first Proam ammonia monitor at Cambridge WwTW earlier in the year, Anglian Water have progressed a further Proam ammonia installation to continuously monitor final effluent water quality at the waste-water treatment facility.
South East Water installs further HF turbidity instrumentation
Two microtol turbidity instruments have been installed at Forstal Pumping Station in Aylesford, Kent. The instruments will provide continuous measurement of raw borehole water quality. The HF microtol instrument ahs been used through out the region at sites which include Charing and Halling WTW to measure raw and potable water supply.
Final effluent ammonia monitor installed by DWR Cymru Welsh Water
Further instrumentation comprising the IQ Sensor Net ammolytplus complete with compressed air sensor cleaning has been supplied to Welsh Water. The instrumentation will be installed at Lampetar WwTW to provide continuous measurement of final effluent water quality.
Protoc 300 TOC analyser to be installed at an Indian petrochemical plant
Our Indian distributor Forbes Marshal have placed an order for a Protoc 300 TOC analyser for Brahmaputra Cracker and Polymer Ltd (BCPL). This project is through Paramount Limited, a provider of turnkey environmental treatment solutions.
June 2012
Welsh Water to deploy a portable ammonia instrument
DWR Cymru is the latest Water Utility to purchase a battery powered, portable IQ Sensor Net system – designed and fabricated by PPM. Wessex Water, Severn Trent Water and Four-D (working for Southern Water), all have similar systems suitable for temporary installation to collect process data. The water quality monitor will be housed in a rugged, water proof case and powered by lithium-ion battery packs. The latest ion-selective ammonium probe technology will be fitted to measure final effluent water quality.
Korean river monitoring station uses Protoc 300 TOC analyser
A Protoc 300 TOC ranged 0-20ppm was despatched this month to our Korean distributor - Dong Moon ENT. The Total Organic Carbon analyser is a replacement for a river monitoring station which was severely damaged by a flood last year. The end user is the Korea Environment Corporation; KECO is a government run organisation for pollution prevention and improvement projects including river water monitoring installations. This water quality monitoring station is one of eight using Protoc TOC analysers.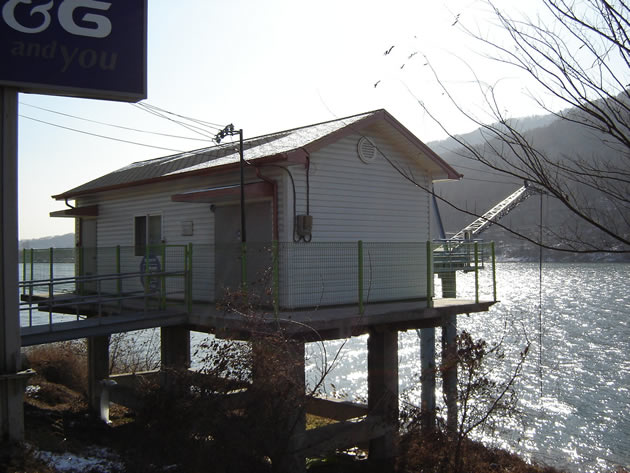 Pollution & Process Monitoring have supplied the Protoc 300 TOC analyser
to eight Korean river water quality monitoring stations
Indian petrochemical project to use Protoc 300 TOC analyser
Another Protoc 300 TOC analyser has been despatched to our Indian distributor, Forbes Marshall for the Oil and Natural Gas Corporation (ONGC). The Uran plant is located south west of Mumbai. The instrument is configured for a range of 0-20 ppm TOC and will be installed to continuously monitor cooling water quality for organic contamination. The client's quality procedure included a 24-hour stability test to validate repeatability to +/-2% tolerance.
May 2012
China installs multiple OFD oil on water monitors
One of the major industrial provinces in China has installed multiple OFD-1 oil on water monitors to identify release of oil into the river catchment. An additional unit has been supplied to our distributor as a spare to support the installations made at various strategic locations with the capability to alarm floating oil films and avert major pollution events. The non-contact laser is mounted off a permanent structure extending over the river which automatically adjusts the height of the detector according to changing river water levels.
Severn Trent Water repeats call off order for Proam ammonia monitors
Severn Trent Water have authorised an additional call-off order to supply a further 30 Proam ammonia monitors. The delivery of the next batch of instruments will be scheduled over a 3 month period between June and August 2012. The instrumentation supply is in addition to more than 80 units already supplied for continuous final effluent compliance monitoring.
Wessex Water continues to install further ammolytplus ammonium monitors
Additional IQ Sensor Net ammolytplus ammonium monitors have been installed at Radstock WwTW and Corfe Castle WwTW. Additionally a further system has been installed at Holdenhust WwTW on the feed to the aeration plant which has been successfully evaluated for calibration stability and reproduceability.
Welsh Water use PPM Phosphate and Iron monitors at Llanberis WwTW
Welsh Water has employed PPM measurement technology at the Llanberis WwTW which discharges into Llyn Padarn in North Wales. The Lake is particularly unusual in that it supports a unique fish population of Arctic Charr which the Environment Agency is keen to protect. Welsh Water has installed the colorimetric analysis on the final outfall to continually report Iron & Phosphate concentrations which are then transmitted to a telemetry system so the discharge can be proactively managed.
April 2012
BASF at Bradford upgrade Protoc TOC analyser technology
One of the largest chemical manufacturing sites in the UK, producing compounds to enhance industrial processes, has recently upgraded their old Protoc CPU instrument with the latest Protoc TOC technology following more than 10 years of reliable service. The new instrument has been supplied with an additional IC module to allow the manufacturer to continuously measure condensate for TOC loading and also to verify the inorganic carbon concentration within towns-water entering the site.
Fourth Protoc TOC analyser shipped to Indian refinery for effluent monitoring
Forbes Marshall placed a new order for an additional Protoc 300 TOC analyser for a project with Hindustan Dorr Oliver Ltd. (HDO) on behalf of Brahmaputra Crackers & Polymers Ltd located at Lepetkata in Assam. This brings the total Protoc TOC analysers supplied to this project to four systems, three of which were shipped last month.
Protoc TOC protects Llangefni WwTW
A new Mcerts approved Protoc 300 TOC analyser has been installed at Llangefni
WwTW for DWR Cymru - Welsh Water to upgrade a previous system installed more than 8 years ago. The new Protoc 300 TOC analyser will continue to provide continuous measurement at the inlet to the treatment facility. A 'Spyder' touch screen is connected to locally display graphical trends and allow for data collection. Additionally, connection to the site's Scada system also permits real-time alarming of high strength influent entering the works to enable operations to proactively adjust treatment processes.
DWR Cymru -Welsh Water selects further Ammolytplus ammonia systems
Two IQ Sensor Net systems with ammolytplus ammonium measurement have been purchased to provide compliance monitoring of final effluent and post SAF ammonium measurement at Pentyberem WwTW in south Wales. The ammolytplus instrumentation was selected because of it's reliable performance on other DWR Cymru sites for similar applications and replaces existing analysers performing in-situ analysis that have been difficult to maintain.
March 2012
United Utilities purchases Protoc 300 TOC analyser
A Protoc 300 TOC analyser with Paper Band Filtration system (removing suspended solids above 20 micron) has been installed at the Workington WwTW. The analyser ranged 0-500 PPM TOC will provide continuous measurement of the load entering the works. Data is transmitted to a touch screen providing graphical representation and data logging. Additionally, GPRS communications will also be installed to transmit data to a secure website allowing remote access.
Ganol WwTW near Llandudno equips with PPM instruments
Dwr Cymru -Welsh Water, have installed PPM instruments at strategic locations across Ganol WwTW. At the inlet, PPM have supplied  a walkin analyser kiosk equipped with a  Protoc 300 TOC analyser reporting organic loading entering the treatment facility and  an IQ Sensor Net system (Ammolytplus 700 technology) reporting the ammonia concentrations. The centrate return is now continuously monitored using the IQ technology (SensoLyt 700 pH probe) which is mounted in a stainless steel weld-in socket allowing in-pipe monitoring. Additionally a third IQ system is installed at the final outfall where the VisoTurb 700 sensor measures the turbidity of a pumped sample.
Wessex Water purchases six Water Quality Loggers
An order has been received for six battery powered WQL probes reporting pH, redox, conductivity and temperature. The blind data loggers manufactured by WTW, are housed in a 316 stainless steel (25mm diameter) housing that can be discretely installed to collect water quality data. The area scientists will deploy the WQL technology in-sewer and at the inlet to waste water treatment works, to monitor trade discharge and saline intrusion.
RWE Innogy purchase trace DO monitors
Two trace level DO monitors have been purchased for installation at the Didcot Power Station to monitor boiler water for trace level DO concentrations. An inhibitor is dosed to remove oxygen which if present can cause corrosion to pipework and boilers, so accurate measurement at low concentrations is an important control mechanism.
February 2012
Welsh Water choose Ammolytplus technology
Two IQ Sensor Net systems with Ammolytplus ammonium measurement have been purchased to provide feed-forward and feed-back control at Pennybont WwTW in south Wales. The instrumentation will control the aeration process which promotes nitrification to remove ammonia. The decision to select the IQ Sensor Net follows positive feedback, from similar final effluent monitoring installations made within Welsh Water and a recent application specific evaluation at Cross Hands WwTW.
Four-D commission two portable IQ turbidity systems
Two portable, battery powered IQ Sensor Net systems have been built in to rugged water proof cases. The portable systems integrate the latest lithium-ion battery technology significantly reducing the transportable weight (and manual handling risk). The on-line turbidity instrumentation, will assist Four-D to collect valuable filter performance data at Southern Water sites at locations where power supply is not available.
Anglian Water installs a final effluent ammonia monitor
Another IQ Sensor Net Ammolytplus ammonium system with compressed air cleaning has been purchased for continuous ammonium measurement. The instrumentation will be installed at Raleigh WwTW to measure final effluent quality.
Three further Protoc TOC analysers for India
Forbes Marshall has placed an order for three Protoc 300 TOC analysers for a project with Hindustan Dorr Oliver Ltd. (HDO) on behalf of Brahmaputra Crackers & Polymers Ltd located at Lepetkata in Assam. The analysers will be installed to monitor site effluent and cover three quite different measuring ranges 0-50 PPM, 0-100 PPM and 0-800 PPM TOC.
January 2012
Severn Trent Water repeats call off order for Proam ammonia
Severn Trent Water have authorised an additional order to supply a further 30 Proam ammonia monitors. The delivery of the instruments will be scheduled over a 3 month period and installed for continuous final effluent compliance monitoring.
Wessex Water installs further ammolytplus ammonium probes
Two further sites have been equipped with the IQ ammolyplus ammonium probe technology for waste water monitoring. A final effluent monitoring system has been installed at Bradford WwTW and two further ammolytplus 700 IQ probes have been installed at Cramborne WwTW.
PPM water quality instruments protect Irish distillery
The latest Protoc 300 TOC technology has been installed by our Irish distributor Ntron, to upgrade an older model at the largest Irish whiskey distillery, located in Cork, Southern Ireland. The distillery has also integrated the ProAm ammonia monitor to analyse the abstracted river water and ensure optimum quality is maintained.
Proam ammonia semiconductor plant monitoring in Taiwan
Our distributor, Atlas Technology in Taiwan has taken delivery of a ProAm ammonia monitor for supply to a semiconductor plant in Taiwan needing to monitor waste water. The standard instrument has been modified to extend the measuring range to 1,000 PPM nitrogen, to enable complete data capture during the initial monitoring phase.
For further information on how PPM can support your instrumentation requirement please contact:
Steven Tuck
Pollution & Process Monitoring Ltd
Tel: 01732 882044
Fax: 01732 780190
Email: s.tuck@pollution-ppm.co.uk