December 2005
Two more Ammolyt probes at Wessex Water
Two more Ammolyt probes were commissioned at the Merriot WwTW site for Wessex Water. The sensors which are connected to a centralised DIS182 digital controller were selected to monitor the quality before and after a new tertiary treatment system installed to improve effluent quality.
United Utilities at Sandon Dock WwTW
PPM has commissioned a ProToc Spyder and Web TOC analyser system to monitor the inlet at Sandown Dock WwTW. The instrumentation has been installed to enhance the coagulation process by continuously monitoring the organic loading at the inlet to enable tighter control of ferric dosing especially during storm conditions where flow measurement alone is too simplistic.
Gerber Foods repeat order
Further instrumentation has been supplied to Gerber Foods at Bridgewater as part of a treatment plant upgrade. The ProToc Spyder and Web system has been commissioned to report the TOC concentration along with pH instrumentation to monitor treated effluent quality.
November 2005
Instrumentation destined for Essex and Suffolk Water
SCS has placed an order for an IQ Sensor Net system and a Trescon Nitrate monitor which will be installed at the Waveney intake to monitor water quality. The instrumentation will be installed by SCS who were initially instructed by Essex and Suffolk Water to appraise current technology and it's suitability for the intended application.
Birmingham International Airport enhance surface water monitoring
Further investment has been made at Birmingham International Airport who has recently purchased instrumentation to monitor the quality of surface water. The latest installation comprises a walkin GRP analyser kiosk pre-engineered with a Protoc Spyder controlling two Web analysers each having Paper Band sample preparation. Additionally an oil on water alarm system will be fitted which is capable of detecting the presence of oil at trace levels floating on the water surface.
Marlow Foods reports continued reliability
Marlow foods have reported that the Protoc Spyder and Web analyser which was commissioned during the summer has continue to prove reliable in its operation. The instrumentation replaced an existing COD analyser which was installed to show compliance but then was found to be difficult to maintain.
October 2005
International sale to Zywiec Brewery
Pomeko have secured another Protoc 300 TOC order with Paper Band Filtration. The instrument will be installed at the Zywiec Brewery and configured to measure waste-water quality over a range 0-500 PPM sampled after primary treatment.
Anglian Water purchase a second ProAm ammonia monitor
A second ProAm ammonia monitor has been purchase for installation at the Anglian Water Lakenham Reservoir site in Norwch. The instrument follows the successful installation earlier in the year of an instrument configured to measure ammonia concentrations in the range 0-1.00 PPM as N.
Severn Trent Water purchase a portable IQ Sensor Net system
The Research and Development team have purchased a portable battery powered IQ Sensor Net system configured for ammonium measurement. The unit will be used for short term data collection to measure final effluent quality and enable process optimisation.
September 2005
RWE nPower plc at Aberthaw choose PPM oil monitor
The site at Aberthaw which has recently taken delivery of a water quality monitoring system to detect oil, represents the sixth system supplied to the group. The power station has received positive comment from others sites regarding the reliability of the system which uses a non-contact technique featuring a fast response and recovery to the presence of oil at very low concentrations which may be present in cooling water.
Ablemarle at Avonmouth invests in PPM instrumentation
PPM has recently fully commissioned a Protoc Spyder and Web analyser system to continuously analyse the trade effluent discharge. The system has been installed within an existing building complete with ultra-filtration used for sample preparation and radio communications to transfer signals to a control centre.
Pomeko, our Polish distributor is building on past success
Pomeko has received yet another order for a micro-Spyder and Web system destined for the PKN Orlen refinery to be used to control condensate return. The design has been configured to measure "TOC by difference" to include the VOC component but otherwise will be similar to that previously supplied to the site. Additionally they have also installed a Protoc 300 instrument at Warsaw International Airport to monitor and control the surface water.
August 2005
Protoc instrument configured for French speaking region of Belgium
Inatech, who represents PPM in Belgium, has secured an important order to supply a Protoc 300 analyser to monitor final effluent from an agrochemical company. The waste streams from the manufacturing process are treated using sand filtration and activated carbon before being discharge back to a surface water environment. The Protoc 300 instrument is to be installed to provide continuous compliance monitoring of the tertiary treatment process. The Protoc instrument has been configured in the French language which is an option recently provided in the menu programming.
Waste minimisation application in South Africa uses Protoc analysers
LabHouse our South African agent has won a significant order for the supply of two Protoc Spyder and Web systems to African Products who manufacture Sucrose based product. The instrumentation which is configured 0-8,000 PPM TC, is to be positioned on waste streams feeding the effluent treatment plant and will be used to identified unacceptable loading events that will need to be investigated as part of a waste minimisation program.
Wessex Water install another IQ system for Ammonium and Turbidity
Wessex Water at Osmington Mills has installed another IQ system to monitor final effluent from an activated sludge process. It is anticipated that the instrumentation will provide important data especially during the summer vacation period when the site receives increased load from a local caravan park.
July 2005
Scottish Courage installs effluent monitoring
Scottish Courage has made a significant investment in on-line monitoring instrumentation at the John Smiths Brewery located at Tadcaster. The order was received in April and has been installed and commissioned in July. The investment included severn Protoc 300 analysers which were configured 0-7,000 PPM TC, with sample conditioning using the Paper Band Filtration system. Additionally an engineered kiosk and volumetric flow measurement at each location was also installed.
Sembcorp Utilities collects four Protoc analysers
Representatives from Sembcorp Utilities located at Teeside visited PPM to witness test four more Protoc analysers (supplied with two Web controllers) which will replace some of the existing instruments that have provided many years of reliable service.
Biofuels at Billingham takes delivery of effluent monitors
A large engineered kiosk containing three Protoc 300 analysers was delivered to the Teeside Biofuels plant this month. The instruments configured 0-1,000 TC will be used to provide continuous data on effluent quality.
Chinese condensate return application
Our Chinese distributor Shanghai Source, has been successful with a contract to supply two TOC monitors required to continuously analyse condensate return. The Protoc 100 instrument is an ideal low cost solution to monitor dissolved TOC in the concentration range 0-30 PPM and alarm unacceptable levels of contamination in the condensate return loop.
June 2005
PPM receives "International Dealer Sales Award"
Wolfgang Knappek, the European Sales Manager visited Pollution and Process Monitoring at a recent conference to present the "International Dealer Sales Award 2005" on behalf of WTW, a leading German manufacturer of water quality instrumentation. It is the first year the award has been presented and recognises the outstanding growth in WTW product sales in the past years. The award also acknowledges the "clearly demonstrated ability to understand our customers' needs and our determination to succeed" which has become increasingly important in a very competitive marketplace.
PPM has represented WTW in the United Kingdom since 1998 and specialises in providing on-line instrumentation for compliance, pollution monitoring and process control.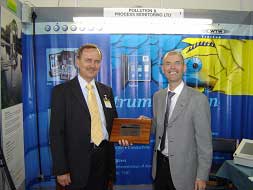 The significant investment program that WTW has committed too since 1998 has delivered many new innovative products with unique selling features. This has helped PPM to offer their customers technical and commercial advantage resulting in the outstanding sales growth which this award takes in to account. PPM success in the UK is also a reflection of theconsiderable time spent evaluating the suitability of products for our domestic market so our customers can be confident in their decision to buy WTW instrumentation. Additionally, PPM's ability to engineer and install complete monitoring solutions has promoted the company in to a very strong position as an independent UK instrumentation company.
Picture: Wolfgang Knappek presents 2005 award to Steven Tuck of PPM.
May 2005
Two Protoc 300 units ordered for PTA plant in China
Aker Kvaerner has approved shipment for two more Protoc 300 TOC analysers manufactured by PPM. The instruments are destined for Hualian Sunshine PTA plant in China which will be operated in conjunction with Invista. The design of the plant will be similar to the Invista PTA plant located at Wilton in the United Kingdom where PPM has already supplied three analyser systems which have proven to be reliable in operation. The most recent order for Protoc instruments involved assembly to an agreed QA plan culminating in witness testing which was supervised by engineers from Aker Kvaerner. PPM also supplied the complete sample preparation system to support these analysers.
University of Wales purchases Labtoc TOC analyser
The University of Wales, based in Bangor has purchased a Labtoc TOC analyser to support a recent research project funded by the European community. The research involves collection of samples through out Europe so river water quality can be determined including the dissolved TOC.
April 2005
Chemko in Slovakio install Protoc TOC
Commissioning of a Protoc Spyder and Web TOC analyser which was installed alongside an IQ Sensor Net system, was conducted by WTW Slovakia. The instrumentation measures the inlet and outlet of the site's biological effluent treatment plant by switching between the two streams on an hourly basis to indicate how the treatment process was performing.
Thames Water order IQ Sensor Net to monitor CSO
An order was received to supply an engineered system using an IQ Sensor Net complete with Ammolyt probe reporting ammoniacal-nitrogen, Trioxmatic sensor reporting Dissolved Oxygen and Sensolyt reporting pH. The system utilises an industrial peristaltic sample pump and automatic air purge system to improve operational performance and reduce maintenance.
Bernard Matthews places a further order
Bernard Matthews has selected PPM to supply instrumentation destined for the Great Witchingham site near Norwich. The IQ Sensor Net system will be installed with two Trioxmatic DO and two Visolid MLSS sensors, measuring two separate activated sludge processes. The final effluent quality will be monitored by a microTol turbidity and Ecoline pH to provide continuous data to telemetry.
March 2005
First ProAm for China
Our Chinese agent Shanghai Source has secured a sale of a ProAm continuous on-line ammonia monitor which was conditional on a 3 week delivery period. The instrument will be installed and commissioned by our local agent at the Shanghai WwTW.
Wessex Water orders another ProAm final effluent ammonia monitor
Wessex Water has ordered another ProAm ammonia monitor for the Dorchester WwTW. The unit was supplied within 24 hours of receiving the purchase order demonstrating PPM's ability to respond quickly as needed. The instrument use it's integral sample pump to directly draw a sample from the final effluent chamber without sample preparation, simplifying the installation and optmising the speed of response.
Roche re-new Labtoc
Roche based in Southern Ireland, have invested in a new Labtoc TOC instrument to replace their existing analyser which has given them over eight years of reliable service. The instrument is calibrated for two ranges allowing discrete measurements to be performed on raw and treated effluent. The laboratory instrument compliments the continuous analysers also supplied by PPM.
Arch Chemicals upgrade their Protoc TOC instrumentation
Ntron, our Southern Ireland distributor, has commissioned a replacement TOC analyser for Arch Chemicals which makes chemicals to prevent encrustation from ships. The former Protoc CPU has been replaced with a Web TOC analyser. The new Web analyser will be controlled from an existing Spyder. The existing Spyder and Web is monitoring a separate sample point.
February 2005
Sutton and East Surrey Water Company repeat order
The assembly of eight identical turbidity systems, configured with automatic chemical cleaning that utilise the IQ Sensor Net and Visoturb turbidity sensor, commenced this month. The units will be supplied to two sites, Kenley and Elmer WTW, as outlined within the dedicated article listed under installations.
Three Protoc TOC analysers destined for India
Forbes Marshall has placed an order for three Protoc 300 analysers and will themselves engineer the complete sample supply and preparation system. The instruments will be installed at the Panipat Refinery to measure waste streams from production areas for the TOC concentration.
AES order another Labtoc analyser
AES based just outside Newcastle have ordered another Labtoc TOC analyser which will be required to analyser discrete samples. The commercial laboratory has ordered the bench top instrument with an auto-sampler to compliment their existing Labtoc instrument, as a result of increasing demand for TOC analysis.
January 2005
Hungrana sweetens to Protoc
Hungrana, a partnering company of the Argana and Amylum groups, are situated approximately 60 KM southwest of Budapest. The company has chosen the Protoc TOC technology to replace an existing high temperature system that proved unreliable. The new instrument is to be installed by Cometron - our local agent, to monitor waste water from sucrose production areas that process corn and maize. The sucrose is then sold to leading soft drinks manufactures which use the ingredient as a sweetner.
GSK, Montrose complete IQ-OQ-PQ procedures
Glaxosmithkline located at Montrose have now fully commissioned the two Protoc TL (Trace Level) TOC analysers purchased to monitor two new DI water production facilities. PPM attended site after supplying the instrumentation during December 2004 to perform the "Installation Qualification" (IQ) which ensures the installation meets the manufacturer's recommendations. Additionally the "Operational Qualification" (OQ) was performed by PPM to calibrate the system and confirm the instruments perform in accordance with specification. During January, GSK performed the final phase of the instrument commissioning procedures; the "Performance Qualification" (PQ) stage which uses a system suitability solution (Benzoquinone) as defined by the USP regulations. The installation also included WTW Ecoline conductivity monitors fitted with the trace level Tetracon conductivity sensors.
Wessex Water at Gillingham WwTW choose IQ system
Morgan Est have just placed an order for a final effluent monitor (evaluated and approved by Wessex Water) to be installed at Gillingham WwTW. The IQ Sensor Net system will be fitted with two sensors; one measuring ammonium and the other turbidity. The Ammolyt sensor is a direct measurement ammonium probe which is low cost, simple to install and automated with compressed air cleaning. It is ideal to alarm nitrifying processes and can be used on final effluent or direct in a sludge tank.
For further information on how PPM can support your instrumentation requirement please contact:
Steven Tuck
Pollution & Process Monitoring Ltd
Tel: 01732 882044
Fax: 01732 780190
Email: s.tuck@pollution-ppm.co.uk