June 2020 News
Due to the current COVID19 situation, a quieter period has allowed PPM to progress the build of a number of bespoke measurement systems and analyser sales. Additionally during June, Wessex Water purchased a portable, battery powered water quality logging system and a final effluent turbidity monitor.
We also finished the build of the second towable trailer for Northumbrian Water which was delivered to the NE of England. Other bespoke builds included a pH & turbidity monitoring system for a UK mineral production site. International sales included a purchase order from our Irish distributor who purchased our Protoc analyser technology, for a cooling water application.
Wessex Water purchase battery powered water quality logging system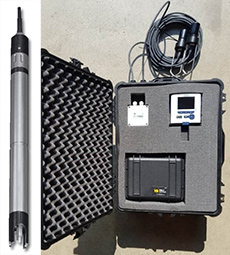 A bespoke, data logging system has been supplied to Wessex Water for waste water quality monitoring. The system comprises a water proof case containing the data logging instrument and the lithium ion battery pack. Two external 7.0m sensor cables, which have a universal sensor connectors are provided. Initially, the system is configured for ORP measurement. Oxidation Reduction Potential is useful on crude sewage, to indicate septicity and within anoxic zones to monitor anaerobic digestion. A second cable with hanging bracket has also been integrated (but blanked off with a water proof blanking socket). The second sensor (ammonium) may be simply connected when required on a future monitoring project. All of the digital IQ sensors use the same water proof connector, making the system very versatile. Additionally, the ability to field exchange a spare battery pack and to house the instrumentation within a pad-lockable, water proof enclosure were also key considerations.
The portable unit can be quickly deployed to profile treatment works, with measurement intervals from one minute. In many instances this approach replaces discrete sample collection and the need to wait for subsequent laboratory analysis. Main power supply, typically required to support this type of robust process instrumentation, is no longer an issue for short term deployment. The lithium ion battery powered system, is an invaluable tool for reactive and planned site investigation. The data is logged to the instrument's memory and easily transferred to a USB data stick. Alternatively, a GSM communications system can be connected to obtain real time field data.
Turbidity, pH & Temperature measurement at a UK mineral production facility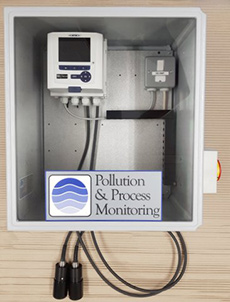 Following a detailed consultation with site staff, PPM prepared a proposal, received a purchase order and built a bespoke process waste monitoring system for a Staffordshire based mineral supplier. Process waste leaving the plant will be continuously measured for pH, turbidity & temperature. Digital probes measuring these key water quality parameters will be mounted in a purpose built sample tank, with internal baffle plates to aid sample degassing. A sufficiently high flow rate will be set to enable a fast response, to any process changes.
In the event of a high excursion on any parameter, a relay from the controller will activate a valve to divert the flow and recirculate the waste back to the start of the treatment process This control functionality will ensure the production plant remains within their discharge consent at all times. PPM has pre-mounted the instrumentation within a small secondary enclosure for the client, to simplify site installation. We also integrated the provision for automatic cleaning of the sensors using site air should this need to be implemented, at a future date.
Another Protoc 300 TOC analyser sold for Cooling water project in Eire
Ntron our Irish distributor, has secured another project sale which includes a Protoc 300 TOC analyser. The instrument is ranged 0-50ppm for cooling water monitoring application and has been supplied with a membrane panel filter system complete with automatic air scour cleaning. A sample break tank was also built and supplied by PPM to take a client's pH probe. All the equipment was to be installed in to an existing GRP kiosk, located on site.