July 2019 News
July has been an exceptionally busy month for new prospects, contract service work, purchase orders and bespoke instrumentation builds. Significant purchase orders include three bespoke surface water monitoring analyser kiosks comprising our Protoc TOC analyser for London Southend Airport. Furthermore, we have supplied four final effluent - turbidity monitoring applications within Wessex Water, in addition to completing a bespoke build comprising two Proam ammonia monitors and a turbidity system for final effluent compliance measurement.
A large northern UK Brewery has also placed a further purchase order for a Protoc 300 TOC analyser to compliment the Protoc instrumentation already installed across the site. Internationally, we have supplied our Protoc TOC analysers for two Indian petrochemical applications.
Wessex Water Final Effluent Monitoring System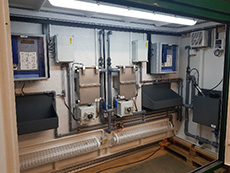 The most recent bespoke analyser kiosk build has recently been completed for a project in Wessex Water. Our Proam ammonia monitors with membrane filtration have been pre-installed within a GRP enclosure with turbidity measurement receiving a pumped final effluent sample. A flow switch has been integrated to also provide an alarm for loss of sample supply. The enclosure also includes frost protection, LED lighting, individual fused spurs, forced ventilation, and preformed rigid pipework simplifying site installation.
The inclusion of a common signals box has allowed for a single armoured cable to be terminated, to transmit all analogue and digital signals. The monitoring system will be delivered to an appointed installation contractor who will connect services, prior to PPM commissioning & training visit.
Protoc 300 TOC analyser installation at large UK Brewery
Another Protoc 300 TOC monitor has been installed on a new fermentation process at a large Northern UK Brewery. This is a further addition to the existing TOC monitors also supplied by PPM that are monitoring a number of other locations across the site. These water quality monitoring stations give continuous feedback on organic load from each production area which has greatly helped the Brewery with cost reduction and their improvement strategy.
Two refinery projects secured for Protoc TOC analysers in India
We have received an order for two Protoc TOC analysers from our Indian Distributer who continues to secure regular orders within the petrochemical industries.
The end users for these purchase orders are the Indian Oil Company Limited (IOCL) for a refinery located in the very north of the county and Bharat Petroleum Company Limited (BPCL) for a refinery in the south west of India.