October 2019 News
October proved to be a buoyant month for new purchase orders and bespoke builds. Wessex Water purchased a turbidity monitoring system for final effluent monitoring; DO optical sensor technology for aeration monitoring & control and our Protoc 300 TOC analyser for final effluent organic loading. South East Water purchased eight flow through nephlometers for potable turbidity compliance measurement. Turbidity monitoring was also supplied to a Paper Mill in Gloucester. A major car manufacturing plant in Derbyshire also purchase two OFD oil on water detection systems, to protect their surface water quality.
We also commissioned a new intake protection system for Essex & Suffolk Water. Three Protoc TOC analyser kiosk builds were started for Southend Airport, to support their surface water monitoring and control improvements. International sales include a Proam ammonia monitor supplied to our Taiwanese distributor. Additionally, our Irish distributor secured a large purchase order for the supply of our instrumentation on a surface water discharge application, at a distillery in Northern Ireland.
Essex & Suffolk Water Intake Protection System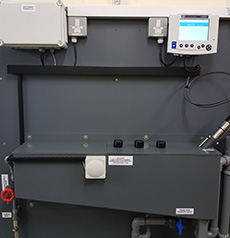 A new water quality monitoring system was installed and commissioned at Barsham WTW to provide continuous intake protection, for water pumped from the River Waveney. The instrumentation comprised a multi-parameter digital controller with turbidity sensor which was pre-installed onto a PVC back-panel with Unistrut supports, to enable simplified site installation.
Additionally, a sample break-tank complete with sample degassing incorporated high and low flow utility alarm conditions. All the process signals were wired to an intermediate signals marshalling box, for connection to the site telemetry system. PPM attended site to commission the instrument panel and provide training to operational staff.
South East Water purchase eight HF Scientific turbimeters
South East Water have purchased eight flow through nephlometers for potable turbidity compliance measurement including the MTOL+ incorporating the latest measurement technology from by HF Scientific. The MTOL+ is built on the same measurement platform as the former microtol model which has proven to be a reliable flow through instrument, for raw and treated water applications. New features such as continuous ultrasonic cleaning of the measurement cuvette, graphical display and data logging complement the ergonomic design. The integral USB allows both data transfer and the possibility to upload new software to the instrument. The instrument calibration will still be maintained using the Primetime primary calibration polymer set which includes a 0.02NTU test point. Operators have always provided very positive feedback on the simplicity and speed of the calibration procedure especially since a single set of calibration standards may be used on multiple instruments.
Ntron secures important purchase order for Protoc TOC and OFD oil detection systems
Our Irish distributor has secured a significant purchase order for two Protoc Spyders with a Web controller-display touch screen, to continuously measure a new discharge from a major distillery, currently using our Protoc technology. The quality of the surface water will be continuously measured for organic load before it is discharged back to the local water course. Duplication of measurement has been selected to ensure that even during the analyser's automatic calibration and cleaning routines, a second analyser is available for continuous analysis, to provide the optimum measurement capability. Additionally, two OFD oil on water detection systems have been procured to measure the same discharge point, for the presence of an immiscible component.