December 2019 News
December continued to be a busy month for domestic UK sales. Wessex Water purchased replacement ammonia instrumentation to measuring incoming load at a small rural treatment works in addition to our Proam ammonia monitor which we shall pre-install within a walk-in analyser enclosure for installation at an abattoir trade discharge. We also supplied a final effluent turbidity measurement system. Northumbrian Water purchased pH measurement for an existing intake protection monitoring station.
Commissioning of new instrumentation included a visit to Manchester Airport – a new large walk-in analyser kiosk containing our Protoc TOC analyser complete with pH and temperature measurement of surface water from a new Apron hardstanding area, which is de-iced during winter. International sales included our Protoc TOC technology to India.
Proam ammonia monitor to be installed within walk-in kiosk for trade effluent monitoring
Wessex Water have placed a purchase order for a Proam ammonia monitor to be pre-installed within a GRP analyser kiosk complete with frost protection, sample and electrical distribution. The instrumentation will continuously measure the trade effluent quality at an abattoir to provide assurance of treated effluent quality, post DAFF treatment. Sample will be acquired using a peristaltic pump and prepared for analysis by membrane filtration to remove biology and suspended solids which can cause fouling within the instrumentation.
The Proam analyser will automatically calibrate and chemically clean on a daily interval to insure optimum measurement. Concentration data will be continuously transmitted for remote access by scientists and engineers. Threshold alarm set points will be provided for control functionality.
Manchester Airport takes delivery of latest Surface Water TOC analyser kiosk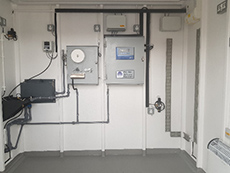 The latest Protoc TOC analyser kiosk complete with Paper Band sample preparation, has been delivered to MAG group. The instrumentation will be positioned on a new Apron at terminal 2 monitoring surface water quality. PPM pre-installed all the instrumentation within a large walk-in analyser kiosk to simplify the site installation and commissioning process.
Additionally, sample pH measurement and sample acquisition has been integrated. A common signals termination box has also been installed to simplify connection of telemetry signals.
Protoc TOC technology supplied for Indian Refinery Project
Forbes Marshall of India have concluded this year with another refinery project requiring 2 Protoc 300 TOC analysers. The application is condensate return with a TOC range of 0-10PPM. The instruments will undergo final testing at the beginning of January with the test procedure witnessed by Lloyds Register who will issue a report after comprehensive performance evaluation which follows PPM's own QA protocol.