December 2014
Protoc 300 TL replaces old Protoc technology after 12 years continuous service
Our distributer, Pomeko Systems (a division of BP Techem), has secured a replacement order for a Protoc 300 TL TOC analyser. This instrument is to finally replace a Protoc 200 which has worked reliably for 12 years at a pharmaceutical manufacturing plant in Wroclaw Poland, The analyser is configured over the measurement range 0-500 Parts Per Billion (PPB), for the application to continuously measure the WFI ultra pure water (Water For Injection).
Giza Systems from Egypt visits PPM for product training
PPM hosted a visit from Mahmoud Salama, a senior project engineer from Giza Systems, located near to Cairo. This follows the recent order for three Protoc TOC analysers for the MIDOR refinery. The technical discussions not only covered this project but also encompassed all the instruments manufactured by PPM, allowing Giza Systems to promote and bid for future projects as they arise.
November 2014
Further Protoc success at Leeds Bradford International Airport
After the successful installation of two Protoc 300 TOC monitoring systems, supplied earlier this year, Leeds Bradford International Airport (LBIA) has placed another order for a surface water monitoring and control system.
The latest Protoc 300 analyser order will be used to provide continuous measurement and control of surface water entering a new holding tank at Outlet 3 location. The large capacity tank, installed at a cost of £300,000 offers LBIA greater containment capacity for storm water containing anti-freeze products used during the winter months, to keep the Airport fully operational.
The installation will automate collection and storage of 'first flush' run-off from the airfield to enhance the existing drainage system. The "first flush" which may contain de-icing agents can then be identified by the Protoc analyser which controls a penstock diversion valve, directing the surface water to a large holding tank. LBIA works closely with the Environment Agency, especially in regard to surface water run-off from airfield site outlets.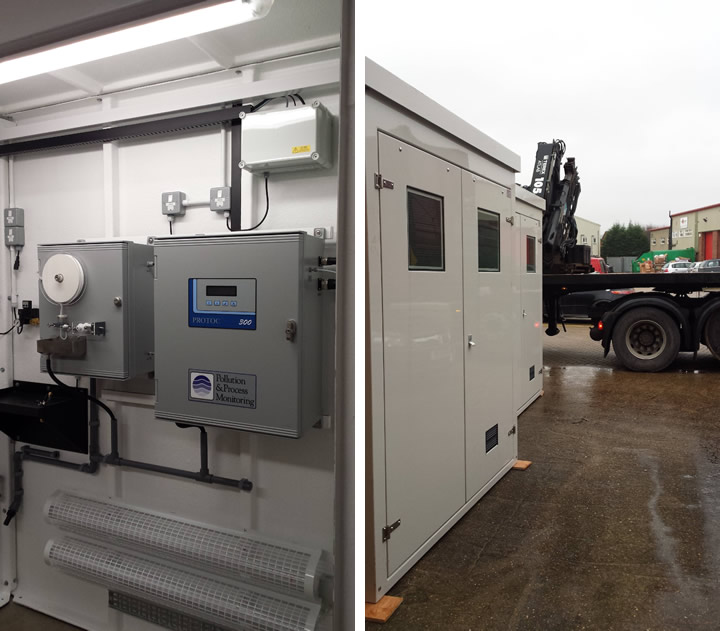 The GRP analyser kiosk is delivered to PPM early November and takes approximately one week for the instrumentation, electrical and sample distribution pipework to be pre-installed prior to delivery to Leeds Bradford International Airport
The latest monitoring and control build, is part of a suite of environmental enhancements which have included the installation of a reed bed treatment facility in 2002 and more recently an examination of the site drainage infrastructure, to ensure compliance with regulatory requirements.
Pollution & Process Monitoring (PPM) specialises in the supply of the complete engineered water quality monitoring system simplifying the site installation process. The Protoc 300 TOC analyser is supplied pre-installed within a walkin analyser kiosk along with sample preparation and sample delivery systems, heating and lighting.
The analyser kiosk delivery to PPM, using a HIAB enables the manufacturer of the water quality analysers to ensure the instrumentation is correctly installed, with all plumbing and wiring terminated and tested, prior to delivery to the client. The procedure allows the main M&E contractor to schedule the installation with confidence and progress final connections of power supply, signals and sample delivery to complete the installation before PPM attends, to complete final commissioning and handover to the client.
October 2014
Three Protoc TOC analysers ordered FOR a refinery project in Egypt
Three Protoc TOC analysers have been ordered by Giza Systems based in Cairo, Egypt for a refinery project in Alexandria. The analysers will be installed to monitor three different locations; treated water, clarified water and de-oiled water. The project is to be overseen by Giza Systems, a highly respected systems integrator for Egypt and the Middle East, providing a wide range of industry specific technology solutions in the telecom, utilities, oil & gas, manufacturing, real estate and hospitality industries. The project will also include training and commissioning, provided by PPM engineers.
Severn Trent Water takes delivery of a further ten Proam ammonia monitors
The Proam ammonia monitor has been extensively installed for final effluent compliance monitoring within Severn Trent Water. The instrument was selected following an extensive product evaluation to determine reliability for the intended application. The latest order to supply ten additional Proam analysers compliments the significant installed base, providing continuous final effluent water quality monitoring across the Severn Trent catchment.
Scottish Water install two further HF turbidity instruments
Two further HF Scientific microtol turbidity instruments have been supplied to replace instruments used to monitor the raw water abstracted for potable water production at a site near Glasgow. The microtol has been installed at a number of drinking water production sites in Scottish Water providing continuous water quality measurement for compliance and process control.
September 2014
Pollution & Process Monitoring Ltd., complete successful 9001:2008 quality audit
Following a rigorous two day inspection, PPM is pleased to announce that a detailed independent audit has again verified that the Company's quality system conforms to the ISO 9001:2008 quality standard. The recertification is valid until August 2017 with annual surveillance audits carried out by the highly accredited Sira Certification Services Ltd.
GlaxoSmithKline replace two Protoc analysers after 15 years service
GSK has decided it's time to replace two Protoc TOC analysers supplied back in 1998. The two Protoc TOC analysers were originally supplied as an engineered package produced by Pollution & Process Monitoring Ltd., which comprised a walkin analyser enclosure, sample acquisition and sample preparation systems. The latest Protoc 300 instruments, which have MCERTS certification - required under the Environmental Permitting Regulations (EPR), will be integrated into the existing installation and will ensure continued reliability for the future, at these two critical locations.
Four ProAm ammonia monitors supplied to Taiwan for a semi-conductor application
Atlas Technologies of Taiwan have ordered four ProAm ammonia monitors for a project with Kurita Water Industries Corporation, a leading water treatment specialist. The end user is Powerchip Technologies Corporation, a memory manufacturer located at Hsinchu Science Park in Taiwan. Two of the instruments have been configured within the standard measurement range of 0-500 PPM as N. However two have a sample dilution option fitted allowing an extended measurement range of 0-10,000 PPM as N. We believe that this extended measurement capability, integrated within the continuous on-line analyser, is a unique feature which further extends the application of the product, into the water and industrial sectors.
August 2014
Portsmouth Water purchase UVT measurement technology
Portsmouth Water has purchased three HF Scientific UVT Accuview instruments for installation at three different locations. The instruments will be installed in advance of the integration of UV sterilisation to acquire background measurement data for design purposes. The UV 254nm transmission measurement is affected by the amount of dissolved organic species and suspended particulate, contained within the sample passing through the device. The flow through instrument can ultimately be used to control the intensity of the UV light used for sterilisation ensuring the process is efficiently controlled, minimising energy consumption whilst maintaining the optimum sterilisation. The Accuview instrument was chosen for it's simple design and consolidated footprint simplifying installation, operation and maintenance.
Wessex Water selects Proam ammonia for installation at Pen Mill WwTW, Yeovil
Another Proam ammonia monitor has been purchased for installation at Pen Mill WwTW in Yeovil. The site receives imported sludge and therefore is subject to varying load conditions. The decision has been taken to replace the existing, less accurate probe technology with the proven Proam analyser design, calibrating against known standards to validate measurement. The instrument will be installed within an analyser kiosk along with a suspended solids instrument providing continuous final effluent measurement. The complete system will be provided by PPM including sample delivery, preparation and pre-installation within the analyser kiosk.
Affinity Water purchase three further HF microtol turbidity instruments
Three further HF microtol turbidity instruments have been purchased for installation at Clay Lane WTW producing drinking water for the Watford catchment. The HF turbidity instruments have been used on this strategic site and surrounding areas since 1996, demonstrating a long standing commitment to this reliable measurement technology.
MWH Global purchase portable Realtech UVT/UVA monitor
MWH Global has purchased a portable UV254nm instrument to allow them to perform instantaneous site measurement using a battery powered system on waste- water treatment facilities. The instrument has an integral battery but can also be powered off a cigarette adapter and allows grab sample analysis of small sample volume for investigative profiling. The instrument reports either the absorption or transmission using the UV254nm wavelength to infer the combined effect of organic loading and suspended solids. The measurement is particularly useful to determine the amount of organic contamination present in a waste-water sample and to control UV sterilisation processes, used to kill pathogens.
July 2014
The China National Petroleum Corporation purchase two additional OFD Oil Film Detectors
Our Chinese agent Shanghai Source Environmental Instrument Company (SSEIC) has secured an order for two additional OFD Oil Film Detectors which will be supplied to the China National Petroleum Corporation. The OFD instruments will be integrated into the Eagle 200 robot monitoring system which is deployed at strategic points along major watercourses to monitor and proactively manage water quality down-stream of production sites and distribution pipelines. PPM has previously supplied a substantial number of oil film detectors to this project which has involved designing an automatic winch system to maintain the laser above the river basin at a fixed height to accommodate changing water levels. The data is communicated back to a central location notifying engineers of any possible events in real time that may affect water quality.
Taiwanese Semi-conductor plant installs four PPM Proam ammonia monitors
Atlas Technology of Taiwan has taken delivery of four ProAm ammonia monitors for installation at Micron Memory Taiwan Co., Ltd. located in Taichung City. Micron manufactures random access memory products for applications in personal computers and server fields. The Proam analysers will monitor waste water across the fabrication plant and the discharge to sewer, to maintain environmental compliance.
Proam ammonia monitor to feature at Glastonbury
Wessex Water has decided to install a Proam ammonia monitor at the Glastonbury WwTW to continuously monitor the final effluent quality. The wet chemistry ISE analyser will replace a solid state ammonium technology in anticipation of the introduction of a tighter consent which will then demand greater accuracy and confidence in the reported measurement. The water quality instrument will be installed immediately beside the final effluent channel and use a membrane filtration system directly mounted in the effluent stream. The configuration will minimise reagent consumption to allow monthly site attendance. Since the instrument automatically calibrates against two known calibration solutions, the Proam self- validates measurements and provides diagnostic alarm outputs, to verify the operational state and indicate the need for maintenance.
June 2014
Anglian Water purchase final effluent compliance monitor
Anglian Water has placed an order for a final effluent ammonia and turbidity monitor to be installed at Badwell Ash WwTW, Suffolk. The water quality instrumentation will provide continuous final effluent water quality measurement. PPM has pre-installed the instrumentation into a small GRP enclosure to provide additional weather protection and to simplify the site installation. This installation is one of a number that PPM has supplied to Anglian Water. The instrumentation provides on-line water quality measurement with outputs to telemetry for real time event notification and remote access.
Molson Coors at Tadcaster install PPM effluent monitoring system
The Molson Coors Brewing Company at Tadcaster has approached PPM to design and build a bespoke effluent monitoring system. The Protoc TOC with Paper Band Filtration has been pre-mounted onto a PVC back panel along with a custom built sampling system which incorporates automatic cleaning.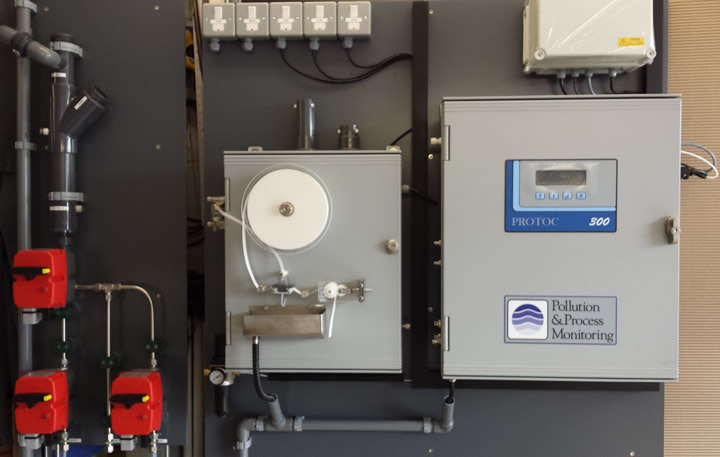 Motorised valves are controlled by a simple PLC to automate back-flushing with cleaning acid followed by a water rinse cycle is used to remove particulate from the sampling line. The sample pumps will be reversed to introduce the cleaning solutions and back purge the sample line to remove particulate build up and minimise the risk of blockage. The existing pH and turbidity instrumentation which has been previously supplied by PPM will also be integrated into the panel. This latest build is a one of a number of effluent monitoring systems which have been supplied and commissioned by PPM at the Brewery.
May 2014
New Photo Gallery section is added to PPM website
A recent addition to our web site is the inclusion of a Photo Gallery section, to allow users to visualise typical installations, for some of the common applications. Various images have been selected for analysers and insertion probe technology including bespoke systems engineered by Pollution & Process Monitoring. When the user clicks on an individual image, a unique description is displayed and the image is enlarged. Subsequently, the user may then scroll through the gallery using the right and left arrows.
Wessex Water installs turbidity instrumentation from PPM at several new sites
PPM has supplied Wessex Water instrumentation to measure final effluent turbidity at several new sites. The measurement of turbidity is an important physical water quality parameter indicating that the treatment process is working correctly and the final settlement tanks are functioning as intended. PPM has modified one installation, to include automatic compressed air cleaning of the sensor, to remove biofilms from the optical face which can otherwise interfere with the optical measurement. The special bespoke modification will minimise site intervention, reducing maintenance to a minimum.
ProAm supplied to Atlas Technology our distributer in Taiwan
The Proam ammonia monitor has been supplied through Concord-Technology Company Ltd. who is a local turn-key contractor to Chipmos who is the end user manufacturing semi-conductors. Concord Technology is an engineering company specialising in ultra pure water (UPW) and wastewater reuse (WWR) systems and is upgrading the water system in the Chupei Zhubei fabrication plant.
April 2014
Aqua Analytics appointed as new distributor to cover the Russian Commonwealth
Aqua Analytics will be sending a Regional Sales Manager and Instrument Service Technicians to receive product, application and service support training, in advance of their local promotional activities. Aqua Analytic's customer base fits in well with the type of industry to benefit from PPM's instrumentation such as Pharmaceutical, Petrochemical, Food and Beverage (brewing). Aqua Analytics has been appointed as a new PPM distributor to cover Russia and the associated states know as the Commonwealth of Independent States (CIS). CIS is a regional organisation whose participating countries are the former Soviet Republics, created during the breakup of the Soviet Union.
Leeds Bradford International Airport (LBIA) purchase two Protoc 300 TOC analysers
Leeds Bradford International Airport (LBIA) has purchased two Protoc 300 TOC analysers to measure Outlet 4, receiving surface water from the apron runoff and the runway. An analyser kiosk was installed during previous improvement work and designed to accommodate installation of future continuous monitoring. The two outfalls combine at the location of the kiosk allowing for a common monitoring point, beyond which LBIA have a penstock valve controlled by the TOC analysers. The valve can be used to divert the surface water to either a balancing lagoon with an overflow to sewer or to a local watercourse. The installation of the water quality instrumentation which will be used to demonstrate environmental compliance, has been installed following a performance trial conducted by LBIA in 2013.
March 2014
Wessex Water purchase Proam final effluent ammonia monitor
Wessex Water has purchased a final effluent ammonia monitor for Evercreech WwTW to continuously measure the discharge water quality. The instrumentation will be pre-mounted into a small analyser enclosure along with membrane sample preparation. The instrument enclosure will be mounted immediately beside the effluent chamber and has a dedicated sample feed from a small submersible sample pump. The Proam ammonia analyser will be configured to accommodate a monthly interval for site attendance to minimise maintenance. Signals will be transmitted directly to the site Scada providing immediate notification of water quality.
Cargill at Manchester have placed another order for a Protoc TOC instrument
The Protoc 300 TOC analyser will be supplied with a Paper Band Filtration system to replace a high temperature TOC analyser system. The water quality monitoring application is to provide continuous measurement of a sub-surface waste tank receiving effluent from a number of sources within the factory, to ensure the waste streams remain within consent.
Two Protoc 300 TOC analyser destined for Russia
Our distributor in Russia, Aqua Analytics, has secured an order for two TOC analysers for the Cargill plant located in Yefremov south of Moscow. This follows corporate interest from the Cargill Group due to the established success at the manufacturing plants in Manchester UK and Wroclaw Poland. The application is to continuously measure the condensate over a range 0-100PPM TOC in case any organic contamination affects quality.
February 2014
Severn Trent Water repeat Proam Ammonia Analyser order
A further call-off order for 50 Proam ammonia analysers has been authorised by Severn Trent Water. PPM will continue to deliver ten Proam analysers every month between February and June 2014. The latest order allows Severn Trent Water to maintain a rolling installation program, of final effluent water quality monitors across their catchment, which started in the third quarter of 2011. The Proam analyser was selected following a comprehensive site trial conducted during 2010/11 to test the performance of the instrument.
Jaguar Land Rover plant at Wolverhampton purchase PPM instrumentation
Jaguar Land Rover has approached PPM to build three water quality monitoring stations for installation at the new JLR Engine Plant at Wolverhampton. The monitoring stations will continuously measure three separate positions; two trade discharges and one surface water drainage system. The instrumentation comprises the Protoc 300 TOC analyser, the OFD oil film detection system and a combined pH, conductivity and turbidity monitor. PPM has designed a walkin analyser kiosk complete with heating, lighting, sample plumbing. The water quality instrumentation is pre-mounted with associated sample preparation systems, to simply site commissioning. The state-of-the-art facility occupies a site approaching 100,000 m² and it is planned to open the production plant later this year.
DWRCYMRU Welsh Water installs further microtol turbidity instruments
The microtol turbidity instrument is used to provide continuous raw water and final treated - potable water quality measurement to ensure compliance to the drinking water directive. The HF microtol turbidimeter has been used for more than 10 years within Welsh Water and has been selected for it reliability and simplicity. The calibration routine using safe primary standards is also extremely simple to perform minimising the time needed to maintain the instrumentation.
January 2014
Safecontractor status awarded to Pollution & Process Monitoring Ltd
Pollution & Process Monitoring has again been awarded accreditation from safecontractor for its commitment to achieving excellence in health and safety. PPM's continued accreditation from previous awards which comprises a detailed audit of all aspects of Health and Safety policy and procedures. Safecontractor is a leading third party accreditation scheme which recognises very high standards in health and safety management amongst UK contractors. John Kinge, technical director of safecontractor said, "Major organisations simply cannot afford to run the risk of employing contractors who are not able to prove that they have sound health and safety policies in place." PPM recognises that the safecontractor accreditation continues enhance the company's ability to attract new contracts and its commitment to safe working practices will be viewed positively by all concerned.
Wessex Water order Protoc 300 TOC analyser technology to control methanol dosing plant
Wessex Water has ordered a Protoc 300 TOC analyser to replace an unreliable instrument supplied by the original contractor, installed on the nitrate removal plant at Poole WwTW. The Protoc analyser will continuously report the total organic carbon concentration on the effluent from the plant to provide a feedback control for the methanol dosing associated with the biological removal of nitrate. Any residual methanol will be detected by the analyser so the methanol dose rate may be altered- reducing chemical costs, improving effluent quality and maintaining compliance.
Proam ammonia orders for Taiwan
Atlas Instruments inc. in Taiwan takes delivery of two ProAm ammonia monitors for two semiconductor projects for Rexchip a DRAM fabrication plant located in at the central science park. The instruments will continuous measure waste water generated from the production plant. One instrument is ranged 0-500 mg/L N and the other utilises an automatic dilution system extending the range to 0-2,000 mg/L N.
For further information on how PPM can support your instrumentation requirement please contact:
Steven Tuck
Pollution & Process Monitoring Ltd
Tel: 01732 882044
Fax: 01732 780190
Email: s.tuck@pollution-ppm.co.uk