Magners formally Matthew Clark Brands Limited has upgraded the control and monitoring facilities for the discharge of site effluent at its Shepton Mallet cider mill.
The Mill produces some of the country's best known brands of ciders and perrys, including Blackthorn Gaymer's Olde English, Diamond White, K premium cider and Babycham. It utilises a sophisticated real time on-line monitoring and control system based on Pollution & Process Monitoring Ltd's (PPM) acclaimed PROTOC® analysers.
The Mill working together with specialist engineers from PPM, has been able to further upgrade the control philosophy for the discharge of site effluent. Advanced new software has been written and installed on the computer system which receives signals from the PROTOC® Spyder and Web analysers, together with a flow monitor.
As a result, the site discharge can be controlled as a function of both concentration and flow, preventing any large fluctuations in effluent strength. Such fluctuations in effluent strength could otherwise have a detrimental effect on the biological treatment process at the local sewage works.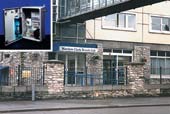 Furthermore, the new software now allows for a direct correlation between the TOC values delivered by the PROTOC® analysers and the equivalent COD values. This has helped the company to better determine when to re-circulate high strength effluent back into the site's own effluent treatment plant.
Consequently, the company can maintain effluent discharge well within consent and provide the local water company with a constant effluent load.
The former Matthew Clark first started using PROTOC® 100 on-line TOC analysers to monitor peaks and troughs in effluent content in 1992. The real time analysis quickly enabled it to identify with a high degree of certainty which processes were responsible for the peaks, enabling the company to take swift and effective action. This in turn led to a significant saving on effluent costs and helped to identify better working processes. The PROTOC® 100 models have been subsequently upgraded to the Spyder and Web systems which automate chemical cleaning and calibration further reducing instrument maintenance.
In all, five PPM PROTOC® Spyder analysers are now installed on site. Two units continuously monitor the main streams into the site's pH correction facility, while a third measures the pH balancing tank. A fourth monitors the output from the pH treatment facility into the main sewer and the fifth is located in a key site position where production is most concentrated. The system is already supported by a sophisticated control and divert facilities. Hard copy printers also provide a real time record of events.
For further information on how PPM can support your instrumentation requirement please contact:
Steven Tuck
Pollution & Process Monitoring Ltd
Tel: 01732 882044
Fax: 01732 780190
Email: s.tuck@pollution-ppm.co.uk