In principle two fundamentally different techniques are available; non-contact detection and flow-through measurement.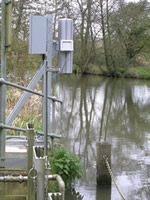 Water Treatment -River Intake
Water Quality Monitoring
Oil on Water
Oil on water instrumentation is a reliable means of detecting floating oil films which are an indication of water pollution. Trace level contamination at sub-micron thickness can be detected using a non-contact laser methodology. Oil film measurement detects an increase in reflected light without any fouling affect on the instrumentation. Oil on water measurement is an important parameter for water intake protection and for effluent monitoring to identify water pollution. Two different models have been offered to cover different installation requirements.
Oil in Water
Some applications require oil to be expressed as a concentration. This is often a difficult measurement and would be performed using a flow-through technique. Obtaining a representative sample and maintaining the instrument's sample pipe work & flow-cell from oil coatings, in addition to possible measurement interference, can affect reliability. PPM have therefore only offered such instrumentation for applications where concentrations are very low and suspended solids are not typically present. (Boiler water and condensate return).