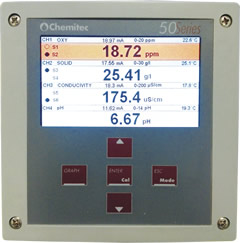 Complete and flexible system for a wide range of applications in water treatment with easy to use software and automatic recognition of sensors: available in three configurations, up to two (2), four (4) and eight (8) simultaneous measurements, freely selectable.
Equipped with two RS485 serial ports: one (1) for sensors with RS485 digital interface and MODBUS RTU protocol and one (1) opto-isolated for the connection with thecommunication devices (Setup Computer, Remote Control Terminals etc.) of the local networks.
Incorporates a Real Time Clock (clock with date) which allows the software to archive the data chronologically to the flash memories also used for storing LOG fles of the events.
Connectable to the whole range of chemitec digital sensors and expandable to the traditional electrodes/probes through digitizers AD Series
Measures
pH/ORP
Dissolved Oxygen
Conductivity
Turbidity
Suspended Solids
Chlorine
Chlorine Dioxide
Ozone
Chlorites
Hydrogen Peroxide
Peracetic Acid
Nitrates (ISE)
Nitrates (UV)
Organic Substances (UV)
Color (UV)
PAH*/OIL (uV-Fluorescence)
*polycyclic aromatic Hidrocarbon
User Interface (HMI)
Programming keypad with 5 bubble-keys with
CAL Key for direct access to the Calibration menu
GRAPH/USB Key for direct access to the Measure graphs and for data download to USB PENDRIVE
MODE Key for self-recognition of sensors
Graphic TFT color LCD resolution 480x272 visible area 95x93 which allows the simultaneous display of digital measurements
Software & Functions
Internal Data Logger (flash 64 Mbit) with possibility to store up to 250.000 records and to display stored data in tabular and graphic form. Data download to USB PENDRIVE or through RS485 and C_NET dedicated SW.
Programmable Analog Outputs for repeating the measurements, PID control and temperature; with the first and the second set on the measurement of the same parameter, the third can be set as the average of the other two.
Digital Output Relays to adjust the Set Points for the measures, the alarm for instrument anomaly, the probe washing or the Set Point for temperature
Analog Input for perturbative functions or engineered display of additional measuring
Digital Input for disabling of dosage
Chemitec 50 Series - Possible layout up to 8 sensors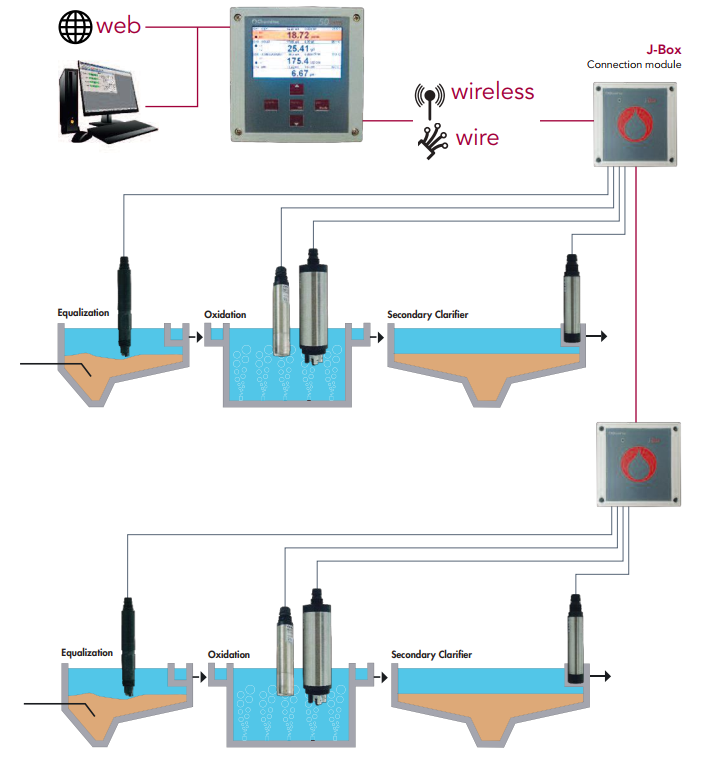 Hardware features, software features and functions - Chemitec 50 Series
Display
Graphic TFT color LCD
Resolution
480 X 272 (Visible Area 95x93)
Languages
Italian, English, French, German, Spanish, Russian
Keypad
5 bubble-keys [up] [down] single keys and [GRAPH/USB ENTER/CAL] keys with double functions available
Data Logger
Internal Flash 64Mbit Memory up to 250,000 records with a
recording interval of 15 sec up to 120 minutes
Recording method
Circular (F.I.F.O.) or Filling
Display of stored data
In tabular and graphic form, with indication of maximum, minimum
and average values of the selected period. Zoom function
PID Control
Settable functions P [Proportional] ; PI [Proportional – Integral] and PID [Proportional – Integral – Derivative]
Activation
On analog or digital output
Proportional range
0 … 500%
Time
Integral and/or derivative 0:00 … 5:00 min
Analog Outputs
Four (4) programmable ; 0/4…20 mA ; Galvanic separation ; 1KV Optoisolator ; Maximum load 500 Ohm ; Output limits user programmable between measuring ranges
Alarm Output
NAMUR ; 2.4 mA [with range 4 … 20 mA ]
Digital Outputs
Six (6) ; Switching Relays usable as NO ; Maximum resistive load 3A at 230Vac
Set Point (4)
Working range setting (Hysteresis/direction) ; pause/working time setting 000…999 Seconds ; PID Control ; Pulse Frequency or PWM
Alarm/Wash (2)
Alarm: Instrument failure, min/max value, set point delay, permanence time (live check) ; Delay time ; Set Point disabling (incase of alarm): Enable/Disable

Wash: Programmable interval (minimum 15 minuts) and duration between 00:00…24:00 hh:mm; during the washing phase, all digital and analog outputs are frozen
Digital inputs (2) for free contact
To disable dosing or activate wash cycle
Power consumption
5mA max
Serial Ports/Outputs
RS485 programmable for set-up and Real Time data acquisition from remote or download stored data (using dedicated SW)
Baud Rate
1200 … 38400
Communication protocol
MODBUS RTU ; on request PROFIBUS DP SLAVE, CANopen, Ethernet, Devicenet, Modbus TCP, Profinet
Manual controls
Possibility to simulate all the analogue and digital outputs using the keyboard
Power Supply
90 … 240 Vac/dc 47– 63 Hz [on request 24Vac/dc]
Transformer isolation
4KV
Power consumption
< 6W
Electrical protection
EMI / RFI CEI-EN55011 – 05/99
Mounting
Wall
Housing Material
ABS Gray RAL 7045
Dimensions (L x H x P)
144 x 144 x 122.5 mm
Mounting depth
122.5 mm
Mechanical protection
IP 66
Weight
1 Kg
Operating temperature
0 … 50 °C
Humidity
10 … 95% non-condensing
Storage and transport
-25…65 °C
Communication protocol
MODBUS RTU (standard) for set-up, Real Time data communication or download of the stored
data through C_NET dedicated software
Upon request PROFIBUS DP ; CANopen; Ethernet; Devicenet; Modbus TCP ; Profnet