Pollution Risk
Sometimes it is necessary to bespoke engineer the correct measurement system, especially for raw and waste water quality monitoring applications where robust sensor technology is required. The IQ Sensor Net system has been specifically designed for the more challenging, waste water applications.
PPM have adapted the system for temporary installation. The plug and play IQ sensor connectivity provides the user an unrivalled ability to configure the system quickly for the intended monitoring application. Rapid deployment, to investigate and optimises treatment processes is therefore possible. The integral data logging with USB data transfer (or the possibility to use GSM communications for remote access), field exchangeable lithium-ion battery packs and the use of robust water-proof cases to protect the instrumentation, are key features.
Battery Powered, Portable Measurement System
Two battery powered, portable versions have been engineered.
A single case with wheels and an extendable handle may be used to provide the optimum weather protection and security. The water-proof case contains the instrument and lithium ion battery pack.
Alternatively the instrument and battery pack may be supplied in separate water proof cases with an interconnecting cable. This configuration provides the best possible portability.
Typically, only one, two or three sensors are connected to the IQ Sensor Net controller when powered by a battery pack to conserve power.
The following sensor technology is available:
Ammonium
Nitrate
Conductivity
Dissolved Oxygen (DO)
ORP (Redox)
pH
Turbidity
Suspended Solids (MLSS)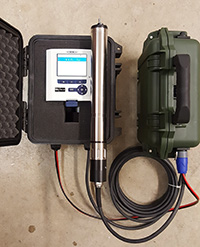 Portable Water Quality IQ System
More information? Get in touch!
If you would like more information relating to this product or the services Pollution PPM can provide, please Contact Us.
For International enquiries, please contact one of our dealers listed on the following page - International Dealers