BP Chemicals in Hull are continuing to invest in environmental monitoring equipment manufactured by Pollution and Process Monitoring (PPM) Ltd.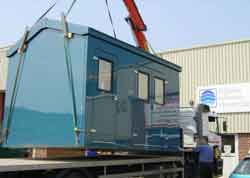 The latest order worth over £60,000 is for an analyser kiosk internally engineered to a very high specification including stainless steel sample pipe work which provides sample distribution to the Total Organic Carbon (TOC) and pH instruments, in addition to automatic composite sample collection.
The site is permitted to discharge a regulated volume of final effluent to the Humber Estuary and additionally to a local waste-water treatment works managed by Yorkshire Water. It is important for the site to minimise their waste at source but also check at specific locations throughout the site, that effluent quality meets stringent guidelines.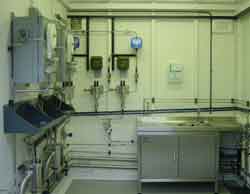 The latest analyser kiosk containing the two Protoc Spyder analysers and a Web controller for the determination of TOC, will be employed to continuously monitor and limit the outlet from the site treatment facility. This new position is down-stream of the individual production areas that are already continuously analysed for TOC and pH. The positions referred to as the "SITE and Yorkshire Water trade waste streams" effectively represent all of the sites surface water and combined process effluent prior to treatment. Monitoring and control at this location is indicative of the surface and final effluent quality leaving the site.
The sample is prepared by a "Paper Band Filtration System" to remove suspended solids above 20 micron size immediately before TOC analysis. This type of sample preparation combined with automatic chemical cleaning of the analyser section, has proved to be invaluable in similar applications on the site and once again has been utilised to optimise measurement reliability.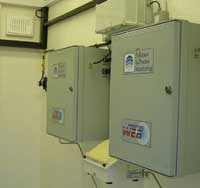 The relationship between the two companies is now very well established. The total spend at Hull with PPM since formation in 1990, is over half a million pounds sterling. The Protoc TOC analyser systems have been supplied for many past and present manufacturing processes to identify product loss and monitor waste-water quality. These processes have included the manufacture of Phthalates, Acetic Acid and derivatives such as Vinyl Acetate and Ethyl Acetate.
Whilst some of the site's former production processes such as for Phthalates are now redundant, there are still a total of nine of the Protoc analyser systems in use. These installations encompass the complete analyser development from the original Protoc CPU through to the more sophisticated Spyder and Web system (featuring touch screen controllers, data logging, multiple analyser sections capable of both single and duplex measurement).
For further information on how PPM can support your instrumentation requirement please contact:
Steven Tuck
Pollution & Process Monitoring Ltd
Tel: 01732 882044
Fax: 01732 780190
Email: s.tuck@pollution-ppm.co.uk