Jaguar Cars contracted Pollution and Process Monitoring - PPM to supply an environmental monitoring station at their Brown's Lane site, in Coventry. The system which was installed in April 2001 comprises several water quality monitors, ensuring that surface water discharged from the site is not accidentally polluted.
The luxury car manufacturer takes environmental matters extremely seriously and has gained certification to the environmental standard ISO14001. The environmental standard requires the company to actively demonstrate a commitment to continual environmental improvement and where appropriate to monitor and control perceived risks.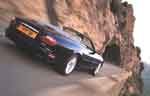 The site at Browns Lane is extensive and has the capacity to generate significant surface water runoff. A site survey was commissioned to map the complex array of drains that transcend the site. One principal drain was identified as being at the biggest risk of receiving contamination through accidental spillage. The drain carries over 60% of the site storm water and receives surface water from road and pavement areas. An interceptor had been installed close to the drain's discharge point, to recover any oil residue that may have entered the system but dissolved contamination would previously have passed through un-detected.
Whilst every effort is made to minimise the risks of chemical ingress into the drainage system, it can never be completely ruled out. For example, all chemical storage tanks are bunded to contain any chemical spillage. Should accidental spillage occur outside the bunded areas, clearly defined procedures are in place to ensure that corrective action is immediately taken. In fact the company prides itself in how quickly a specially equipped team can respond to an incident anywhere on site, reputably within 3 minutes. The team is well equipped with specialist tools to contain, absorb and remove any potential hardzard. Even so, accidents can occur especially on the site's internal road system.
Consequently, Jaguar Cars approached PPM to design and install a monitoring station to continuously analyse the surface water quality prior to discharge. The instrumentation is connected to site telemetry system and can generate alarm signals in real-time to identify an incident should it occur, protecting the receiving watercourse.
Installed within the self contained kiosk are instruments that measure Total Organic Carbon - TOC and pH. These parameters were chosen to detect the presence of acids, bases and dissolved organic chemicals, in particular solvents which are used across the site. Immiscible chemicals such as lubricating oils are detected by a separate device, mounted within the interceptor. If the oil recovery system was not working efficiently or required maintenance, the instrument would detect the oil film and raise an alarm to indicate oil break-through. This type of detection was considered preferential to a concentration monitor, where sub-surface sampling can often miss the floating oil. It was also considered useful to automate sample collection triggered by an instrument alarm, so further analysis could be performed on a spot sample.
To ensure optimum perpnce PPM was also asked to provide an annual service contract, to attend site at regular intervals confirming that all the instrumentation was correctly calibrated and functioned as intended.
Peter Phillipson who works within the company's engineering department, has over seen the project from day one. Peter comments "PPM had previously supplied instrumentation for surface water monitoring on another Jaguar site so we were confident of their ability. The monitoring station at Browns Lane however is a little more in depth and I am very pleased to report that the installation is well designed and very reliable in operation. The service contract has also reduced the amount of time that Jaguar needs to spend with the system. The monitoring station provides the company with the piece of mind we need. Knowing it monitors the water quality, second by second and that it would spot an incident which if left un-detected for extended period of time could then become serious, is very re-assuring".
With the introduction of ever stringent legislation, such as IPPC (Integrated Pollution, Prevention and Control), forcing companies to install continuous monitoring and combined with the increasing recognition that surface waters are vulnerable to pollution ingress, then it is believed more companies will need to install similar on-line devices. PPM has a wealth of experience delivering an engineered solution, tailored to an individual's needs, including automatic containment systems which are simple to install and operate.
For more inption on any application requiring on-line measurement please contact us
For further information on how PPM can support your instrumentation requirement please contact:
Steven Tuck
Pollution & Process Monitoring Ltd
Tel: 01732 882044
Fax: 01732 780190
Email: s.tuck@pollution-ppm.co.uk